---
Pumpkin Sour Cream Maple Muffins
---
by
Kim Sunée
• November 7, 2019
---
Yield:
Makes 12 muffins •
Total Time:
30 min
---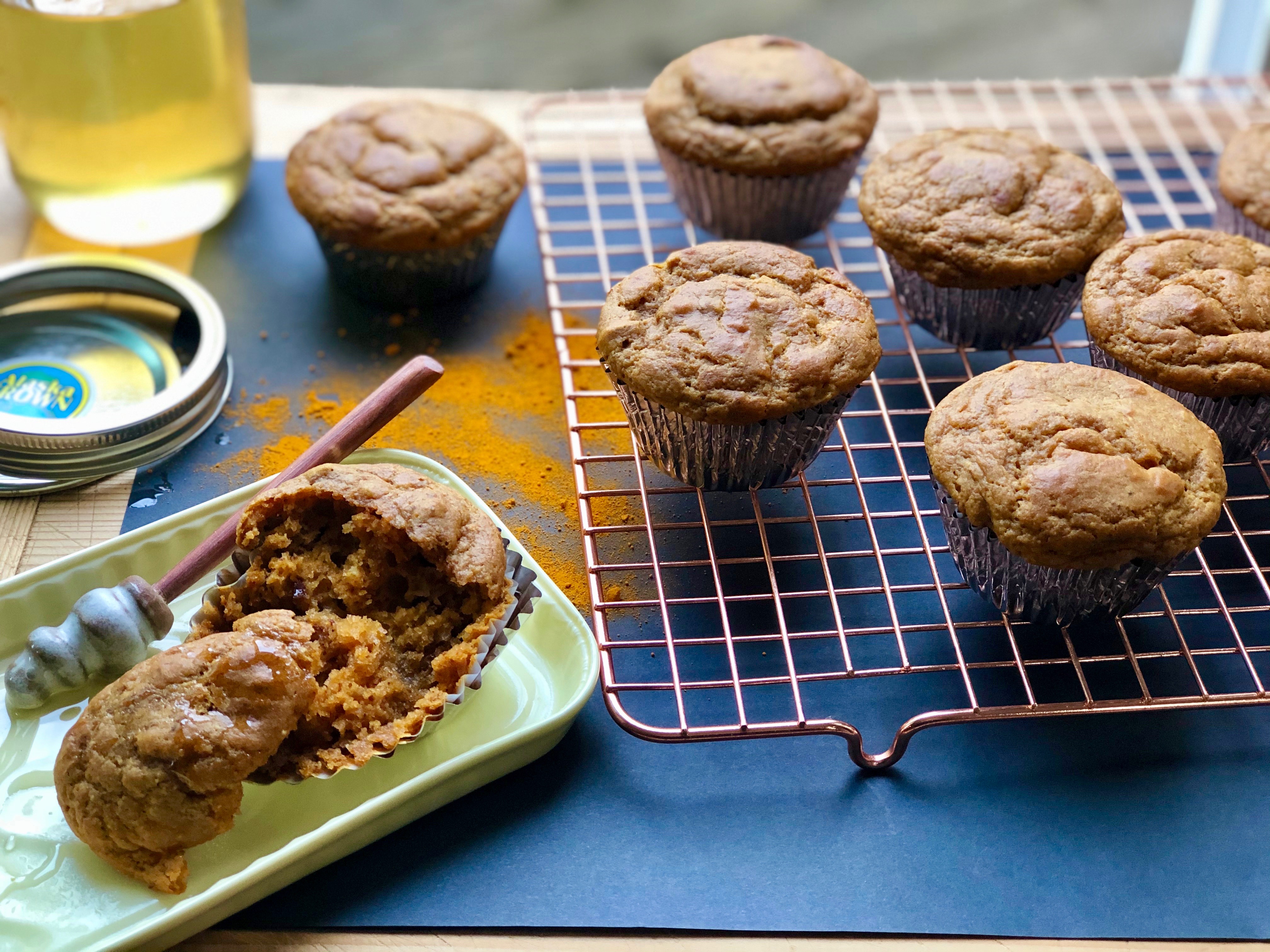 ---
These muffins get their deep color from pumpkin (or sweet potato) and golden turmeric and a bit of sweetness from maple syrup. For a slightly sweeter* muffin, add 1 to 2 tablespoons brown sugar. Sour cream and chopped nuts add both moisture and texture. If you feel like adding in chocolate chips, coconut, or golden raisins, fold them in along with or in place of the nuts. Substitute canned pumpkin purée (and not pumpkin pie filling, which is sweetened and spiced) with canned or homemade roasted sweet potato purée. To do so, roast one medium-to-large sweet potato pricked all over with a fork at 350°F for 45 to 60 minutes. Let cool. Peel and mash the flesh until smooth and measure out 1 cup to 1 1/3 cups for recipe below; any leftover purée can be used for rolls, biscuits, and pancakes.
ingredients
1 1/2 cups (195g) all-purpose flour
1/3 cup (40 g) ground almond meal/flour or all-purpose/whole wheat flour
2 teaspoons baking powder
1 teaspoon baking soda
1/2 teaspoon fine salt
1/2 teaspoon ground cinnamon
1/2 teaspoon ground turmeric or cardamom
1 (15-ounce) can pumpkin puree (NOT pie filling) or sweet potato puree—1 to 1 1/3 cups
1/3 cup neutral veg oil such as avocado or grapeseed (or melted unsalted butter/melted coconut oil)
2 large eggs
1/3 cup maple syrup or honey* (see note above)
1/4 cup sour cream or plain yogurt
Optional add-ins: 1/3 cup/35 g chopped walnuts
directions
Heat oven to 350°. Line a standard-size muffin tin with paper liners or grease thoroughly with cooking spray or softened butter.


Whisk together both flours, baking powder, baking soda, salt, cinnamon, and turmeric together in a medium bowl. In a large bowl, whisk together pumpkin, oil, eggs, maple syrup, and sour cream (or yogurt). Stir in the dry ingredients and walnuts, if using and mix just to combine.  Divide batter evenly among muffin tins and bake until tops are puffed and a tester inserted in center comes out mostly clean, 20 to 24 minutes. Let cool in liners a few minutes before removing liners or they will stick to the muffin. Serve warm, as is, or with butter and maple syrup.
---
---
---
---
---