---
Spicy Sweet Sambal (Chile Sauce)
---
by
Kim Sunée
• September 15, 2014
---
Yield:
MAKES ABOUT 1/2 CUP •
Total Time:
12 MIN
---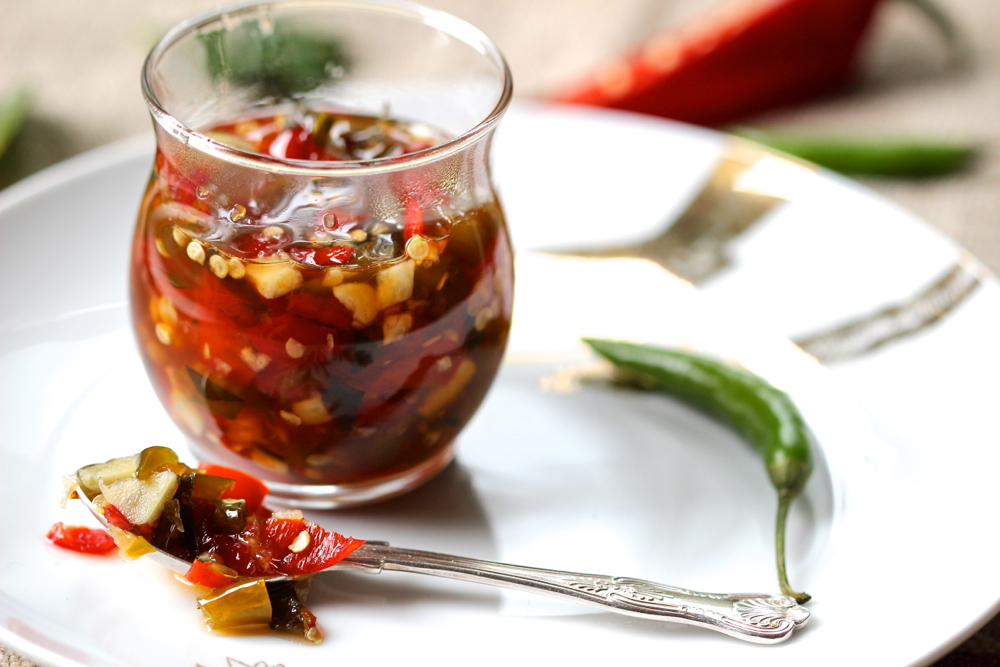 ---
This sambal, a sweet and spicy Malaysian-inspired condiment, reminds me of some of my favorite Southern U.S. hot pepper jellies. I've added makrut lime leaf (you could use fresh lime zest and juice instead) and garlic and lemongrass. The measurements are approximate; just taste and add more salt or sugar until you hit that sweet spot. As for the chiles, I like the combination of using at least two different types; chop up your favorite variety, such as habanero, jalapeño, Anaheims, etc.  Serve with this excellent recipe for Malaysian Beef Rendang from Rasa Malaysia and coconut rice, or with grilled fish or chicken. This sambal also adds interesting flavor to a BLT or a pot of beans.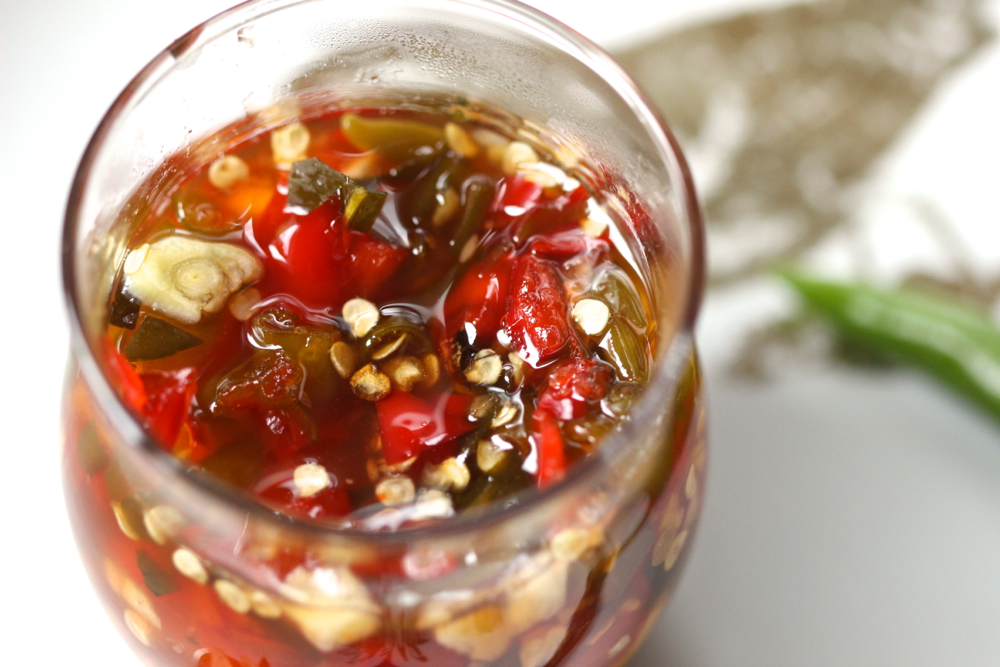 ingredients:
6 to 8 small fresh green chiles, stems removed and finely chopped
2 to 3 Fresno chiles (they look like red jalapeños), stems and seeds removed, finely chopped
1 (1-inch) piece fresh ginger, finely chopped or grated
2 tablespoons fresh or frozen chopped lemongrass
3 garlic cloves, minced
2 to 4 makrut lime leaves, finely chopped (or juice and zest of 1 small lime)
Salt, to taste (start with 1/2 teaspoon)
About 1/2 cup white vinegar
About 2/3 cup sugar
Optional: dash of fish sauce; tamarind juice
directions
Combine chiles, ginger, lemongrass, garlic and lime leaf (or lime zest and juice) and pound using a mortar and pestle. NOTE: If you don't have a mortar and pestle, combine ingredients and pulse together two or three times in a food processor, being careful not to blend into a paste. Slowly add vinegar and salt and keep pounding; the salt will help break down the ingredients. Taste and add more lime, vinegar, salt, or garlic, as desired.

Add pounded mixture to a small pot and place over medium-high heat. Add sugar and swirl pot. Let mixture cook over medium-to-medium-low heat, about 10 minutes. The mixture will turn glossy. Let cool slightly. Serve chilled or at room temp; store, refrigerated, in a sealed glass jar up to one week.
---
---
---
---
---