---
---
by
Kim Sunée
• September 20, 2020
---
Yield:
MAKES 12 LARGE OR 24 MINI •
Total Time:
25 MIN
---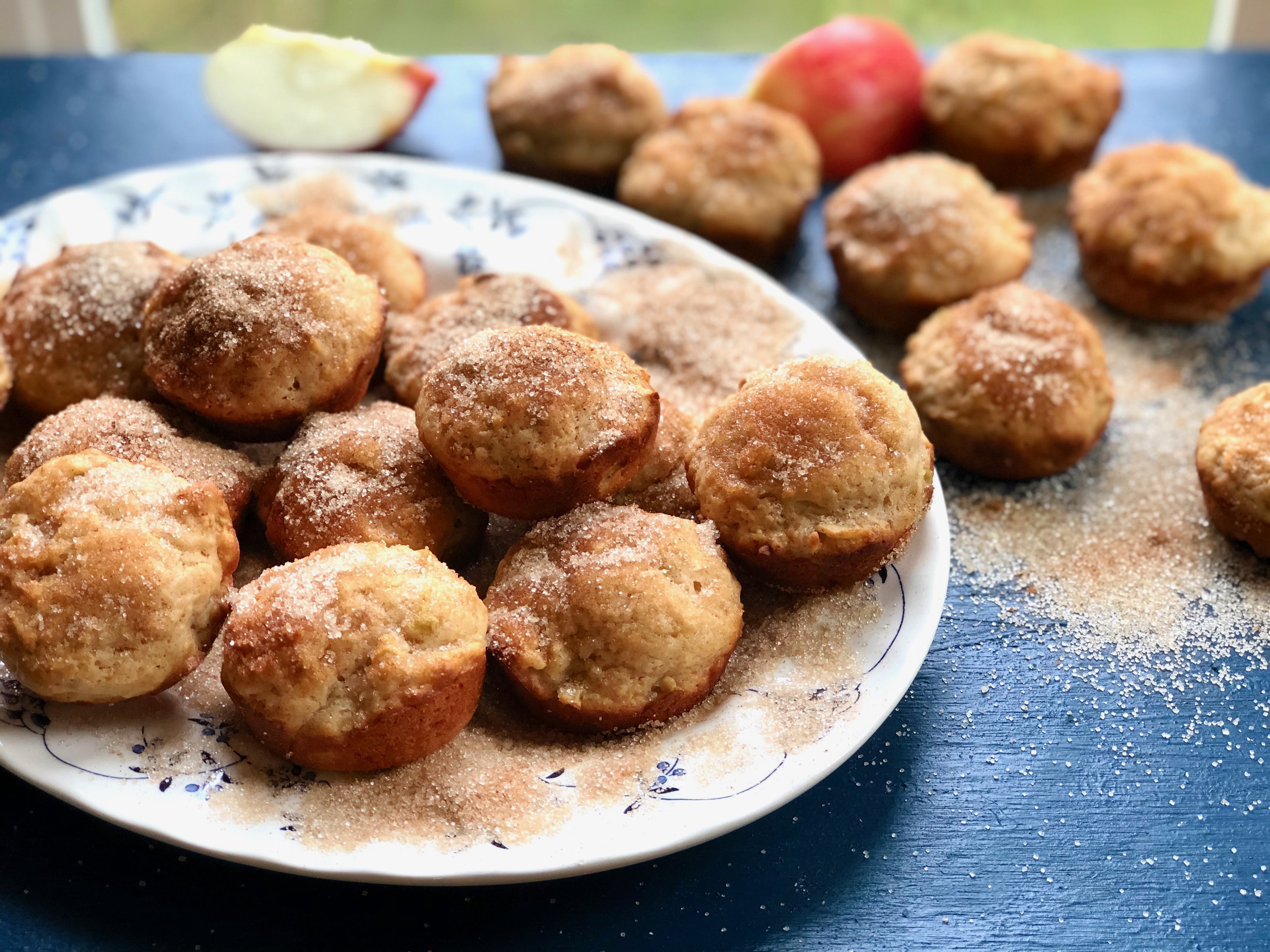 ---
Behind every neighborhood apple tree is a lover with big ideas. Apple butter. Long-simmered cider. Tender hand pies. Crabapple-ginger cake. Apples are as much at ease with savory flavors as they are with sweet. Sauté slices with duck breast; add to a pork roast or smother apples and sauerkraut with some game sausages or boudin blanc or noir. And when I have fresh apple cider on hand, I often try to recreate a Chimayó cocktail I tasted years ago in New Mexico–a refreshing blend of tequila or Calvados, apple cider, crème de Cassis, and fresh lemon juice.
For a double dose of this easy-to-love autumn fruit, these doughnut muffins call for grated apple and applesauce. Without the fuss of frying or waiting for dough to rise, this is an easy and satisfying riff on the doughnut in muffin form. The sweetness comes mostly from the apples so adjust sugar amount accordingly. Use this as a base and change it up as you wish. Maybe stir in some grated carrot or chopped nuts or golden raisins or up the spice by adding some ginger or clove. But don't skimp on the melted butter at the end, just a light brushing over the tops will help secure the cinnamon sugar topping. Serve as is or maybe alongside some apple butter, yogurt, vanilla crème fraîche or your favorite jam.
ingredients:
3 cups all-purpose flour
2 teaspoons baking powder
1 1/2 teaspoons ground cinnamon
1/2 teaspoon freshly-grated nutmeg
1/4 teaspoon fine salt
12 tablespoons unsalted butter, melted
3/4 cup sugar
1 large firm tart apple, core and stem removed (1 scant cup grated)
2 large eggs
4 ounces applesauce (about ½ cup)
1 cup buttermilk* (or half buttermilk, half yogurt)
1 teaspoon vanilla extract (or almond extract)
1/3 cup finely chopped walnuts (optional)
Topping: 2 tablespoons melted butter + 1/4 cup sugar + 1 heaping teaspoon ground cinnamon
directions:
Heat oven to 375° F. Generously coat a 12-cup muffin tin (or two if making mini muffins) with cooking spray or brush bottoms and sides with oil or melted butter.


Stir flour and scoop into a measuring cup; scrape off excess flour using dull side of a butter knife. Combine flour, baking powder, cinnamon, nutmeg, and salt together in a large bowl. In a separate bowl whisk together melted butter and sugar to combine. Stir in eggs, applesauce and buttermilk; add grated apple and chopped walnuts, if using. Add buttermilk mixture to flour mixture and stir just to combine, being careful not to overmix.


Scoop batter into muffin tins using 1/3-cup measure or an ice cream scoop to fill about three quarters full for larger muffins. If using two muffin pans, divide mixture evenly using a small ice cream scoop or 1/4-cup measure. Bake 20 minutes for smaller muffins; 25 minutes for larger muffins or until springy to the touch and a wooden skewer inserted in center comes out clean. For the Topping: Melt butter. Combine sugar and cinnamon together on a plate. Remove muffins from oven and let cool slightly. Remove muffins while warm; brush tops with a little melted butter and roll in cinnamon sugar.
Some other favorite ways with apples:
---
---
---
---
---