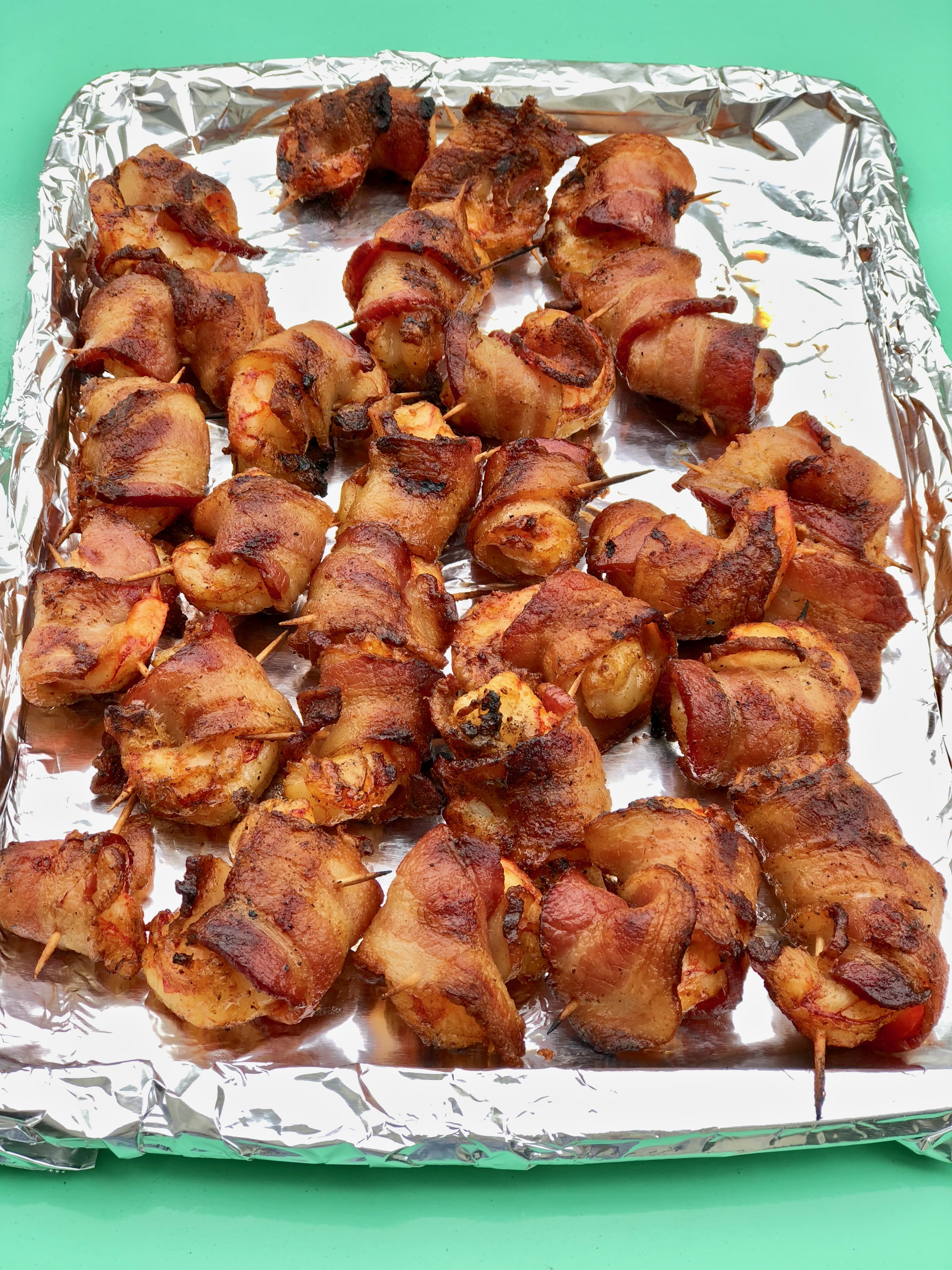 ---
My friend, Joe, who has a particularly intense job often comes over and helps me prep and cook; the rhythm of the kitchen with its chopping and sautéeing, mixing and mashing is a well-known stress reliever for many of us. And summer grilling, the fragrant smoke and the promise of charred goodness, is especially heady and therapeutic. One of Joe's go-to dishes is bacon-wrapped prawns.     
He makes a quick stock with the shells before reducing them down to make a basting liquid, which adds moisture and depth of flavor. He also wraps the shrimp with bacon. I sometimes substitute thin slices of prosciutto for a quicker easier version (no need to "precook" the cured slices of prosciutto), which is what I've included in this recipe. Note, if using bacon, cook it first for a few minutes (you want it to be limber enough to be able to wrap around the shrimp) so it will crisp up on the grill without overcooking the shrimp. As an East Coaster, Joe favors Old Bay seasoning. I reach for a Creole spice blend but both work well here so choose your favorite.
 Serve as an appetizer with cocktail sauce or other dipping sauce such as aioli, chimichurri, or harissa. These are also delicious as part of a composed salad or piled onto warm French bread with mayo, shredded lettuce, and tomato for an impromptu po-boy sandwich.
ingredients
2 pounds large raw, shell-on wild shrimp (about 16 shrimp per pound)
12 ounces thinly sliced prosciutto (or 1 1/2 pounds thick-cut bacon—see Note above)
2 teaspoons powdered garlic
2 to 3 teaspoons Old Bay seasoning (or low-sodium Creole seasoning)
3 tablespoons unsalted butter
Dash Worcestershire or hot sauce, such as Frank's RedHot or Tabasco
NOTE: Toothpicks soaked in water for at least 4 hours or flameproof metal skewers
For serving: lemon wedges; favorite dipping sauce
directions
Peel shrimp; place shrimp in a bowl and place the shells (and heads, if any) in a small saucepan. Remove any veins and rinse shrimp, if needed and pat dry thoroughly. Place shrimp back in bowl and toss gently with two teaspoons Old Bay or Creole seasoning and 1 teaspoon garlic; place bowl in refrigerator until ready to use.
Add two cups water or dry white wine to saucepan with shrimp shells and remaining teaspoon seasoning and remaining teaspoon garlic, and the butter. Bring to a boil, reduce heat to medium-low and let simmer about 15 minutes; remove shells from pan and increase heat; let liquid cook down another 10 minutes or so; add a dash of Worcestershire or hot sauce; set aside.
While stock reduces, wrap shrimp with slices of prosciutto and thread onto toothpicks (see note above) or metal skewers. When ready to cook the shrimp, start a charcoal or gas grill (about 400°) or preheat the broiler to High. NOTE: If using bacon, cook bacon until cooked about halfway through; let cool slightly. Wrap bacon around shrimp, cutting bacon slices as needed to wrap around the shrimp in a single layer. Thread prosciutto-wrapped shrimp onto toothpicks (see note above) or metal skewers. 
Place shrimp on grill and cook, turning once and basting every so often with reduced stock, until prosciutto is crisp and shrimp just cooked through. Serve warm with lemon wedges and/or your favorite dipping sauce.
---
---
---
---
---