---
Frank Brigtsen's New Orleans BBQ Shrimp
---
by
Kim Sunée
• July 30, 2014
---
Yield:
2 •
Total Time:
15 min
---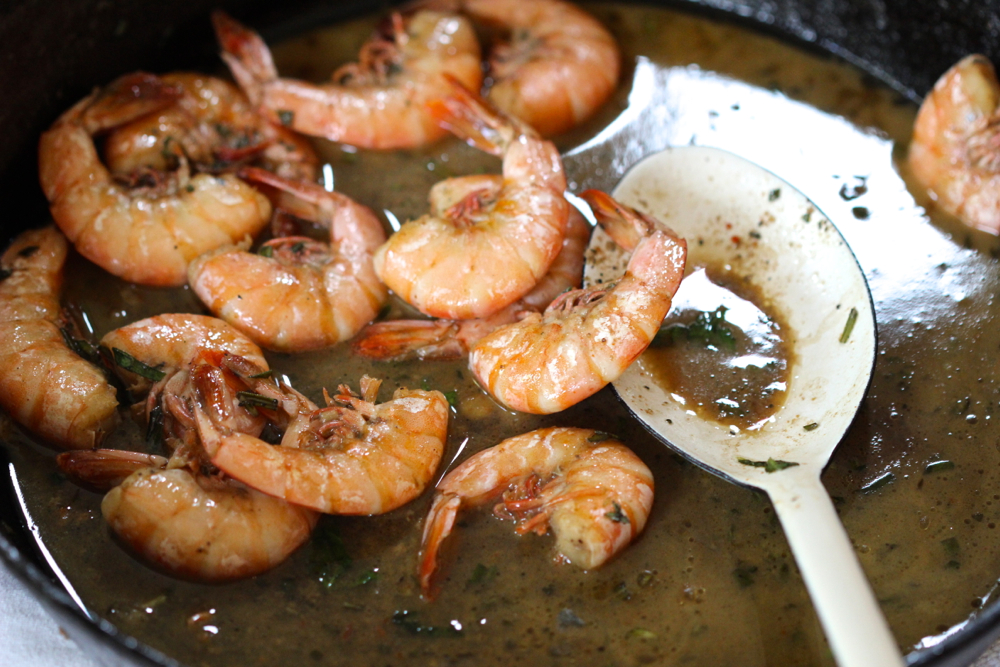 ---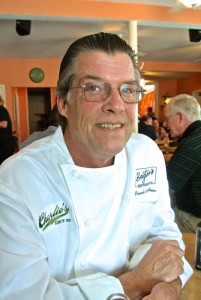 Chef Frank Brigtsen is one of the nicest chefs I know and his food bursts with true New Orleans flavor. Frank, a recipient of numerous awards, including a James Beard Foundation Humanitarian honor, cooked with Chef Paul Prudhomme back in the 1980s. They were both, along with many other local chefs, incredibly important to the revitalization of the city right after Katrina.
This is Frank's BBQ shrimp recipe that he kindly shared with me for my new book, "A Mouthful of stars."  Salivating along with the other students, I watched him make this dish during one of his popular cooking classes at The New Orleans Cooking Experience.  If you're visiting the city, make sure and sign up for one of his classes.
"New Orleans BBQ shrimp has nothing to do with a barbecue pit or barbecue sauce," Frank warns. It's all about the buttery richness of the sauce. This is best made with head-on, wild shrimp. If you can only find wild, headless that's fine, too. If you want to serve peeled shrimp for your guests, save the shells and make a quick shrimp stock to add to the sauce. If serving with shells on, buy extra shrimp to make a stock (see directions below); stock can be kept in ice cube trays and kept frozen until ready to use for this recipe as well as other shrimp-based stews and soups. Make sure to have lots of bread for sopping up the sauce. And I like to offer both Tabasco and Crystal hot sauces at the table.
Warning: These are addictive, so consider doubling or tripling the recipe depending on the number of guests. They will leave with happy mouths.
ingredients
1 dozen fresh, head-on jumbo, wild (Louisiana) shrimp (10-15 count per pound)
3 tablespoons + 4 tablespoons unsalted butter, softened
1 teaspoon finely chopped fresh rosemary leaves
1/2 teaspoon fresh ground black pepper
3/4 teaspoon Chef Paul Prudhomme's Seafood Magic seasoning (or your favorite low-sodium Cajun seasoning blend)
1 teaspoon minced fresh garlic
1 tablespoon Worcestershire sauce
3 tablespoons dark beer (enjoy the rest while cooking)
1/4 cup shrimp stock*
directions
IF SERVING PEELED SHRIMP: Peel the shrimp and devein, reserving the heads and shells for stock*. To make the stock, place the shrimp heads and shells in a small pot and add just enough cold water to cover the shells. Bring to a boil. Reduce heat to low and simmer, stirring occasionally, for 5 minutes. Strain through a sieve into a bowl and set aside. Or cool completely and freeze in ice cube trays until ready to use.
Heat a heavy-bottom skillet over high heat for 1-2 minutes. Add 3 tablespoons of the butter, the rosemary, black pepper, shrimp stock and peeled shrimp (or shell-on shrimp). Cook just until the shrimp turn pink on the outside. Shake the skillet vigorously back and forth, with a push/pull motion, while cooking the shrimp.
Add the seafood seasoning and garlic and cook, shaking the skillet constantly, for 5 seconds. Add the Worcestershire and beer. Cook until the beer is almost completely evaporated, 15-20 seconds.
Add the remaining 4 tablespoons of butter. Reduce heat to low. Shake the skillet vigorously back and forth, with a push/pull motion, just until the butter melts into the sauce and the sauce is emulsified. Serve immediately in shallow bowls with lots of hot French bread for soaking up every last drop of sauce.
---
---
---
---
---