I've sent many emails to friends about where and what to eat in Paris, so I've decided to post it here. (I lived in Paris and Provence for ten years before moving back to the States.) Please note dates and if you have visited one of these places more recently, I'd love to hear an update.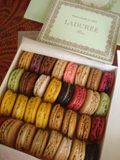 One of my first stops (after I've dropped off the luggage and refreshed myself with a tiny espresso and a croissant) is the Rue Bonaparte location of Ladurée. (The grander teahouse is located on the Champs Elysées.) Just a few steps from my dear friend Dorie Greenspan's apartment, I go to Ladurée many times during a single visit in the City. I love their macarons, especially citron, fruits rouges, and salted caramel. There are also seasonal flavors like Chestnut and Cassis-Violette. I obsess over these delicate confections, trying to buy them at just the right moment so I won't eat too many. I usually give up, or take a small bite out of each one—just to taste. I'm already breaking in my Olivia's (my 2 year-old god daughter) palate. She can not be fooled. Recently, her mother gave her macarons from another patisserie one day and Little O. took one bite, and asked where they were from."On va a la durée?" she asked.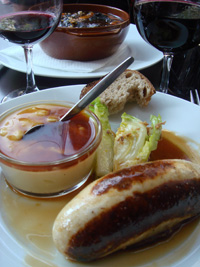 Le Comptoir du Relais: Make reservations for dinner or try your luck at lunch. Noon is early for a Parisian lunch, but it's the best time to get here for a coveted table. I usually eat lunch here several times a week. Last great bites: Cream of Lentil Soup with perles du Japon (tapioca like pearls) and silky slivers of foie gras. I also loved the Boudin Blanc with mashed potatoes and for dessert, cheese or this lovely pot of fresh brocciu with warm chestnut honey.

Le Bistro Allard on rue St. André-des-Arts: I don't care how touristy this place gets, I still love it for a big white bowl of frisée salad—with lots of vinegar and meaty lardons, an entirely too big poulet de Bresse, roasted duck piled high with about a thousand green olives and lots of wine and great fun. It's still very French—one evening, Omar Sharif—looking very dapper and quite happy with wine—ran into me in the toilettes and insisted on posing for this photo.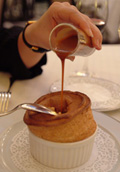 If you find yourself near the Eiffel Tower at lunchtime, walk over to Café Constant on Rue St. Dominique. There's a jukebox and a few café tables downstairs, but make your way to the second floor and sit only where they tell you—the tables will all fill up soon enough—and order anything from the chalkboard menu. You can't go wrong.
Other places I love: Dominique Bouchet, L'Astor for a reasonably-priced Michelin-starred prix-fixe lunch, Chez L'Ami Louis–go hungry with a few flush friends—for platters of foie gras, a whole side of beef with frites and, in the late spring, I like to indulge in a dinner size plate of fresh wild strawberries and a canister of thick, heavy crème fraiche. In the marais, stop in at Chez Omar for couscous and exquisite tea jellies at Mariage Frères.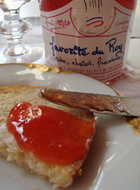 For cookbooks, go to La Librairie Gourmande. There are even some rare books by publisher Robert Morel I'm saving up to buy. Spend some time at La Grande Epicerie du Bon Marché. I always bring back my favorite jam. It is the perfect jam. And on Sundays I love to wander with a group of friends over to the 12th arrondissement to the Marché d'Aligre. In the winter, at Le Baron Rouge we start with a plate of charcuterie while waiting for freshly-shucked oysters—les plates and les creuses—cold butter and bread and glasses of chilled white straight from the barrel.