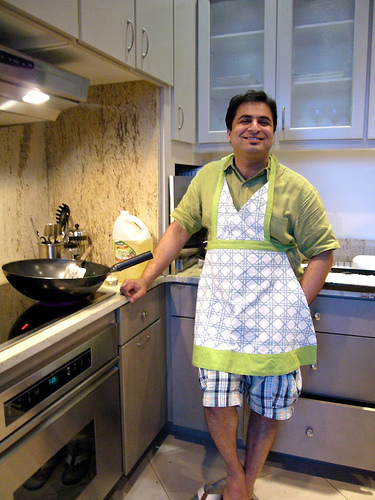 Suvir calls himself Susie Homemaker…well, here he is. Actually, Suvir graced us with his presence and taught us that there is life beyond curry at The Floating Island Workshops last summer in Seaside, Florida.
Top Chef Masters has just premiered and already there seems to be a favorite. This season's "Masters" include Floyd Cardoz, Mary Sue Milliken, NOLA's Sue Zemanick, Naomi Pomeroy, Traci des Jardins, John Currence, Hugh Acheson, George Mendes, Alessandro Stratta, Celina Tio, and John Rivera Sedlar.
From the premier episode, I'm dying to have the recipe for Floyd's steel-cut oatmeal risotto and Naomi's chocolate torte. As to my favorite: I feel that Suvir doesn't need to be on any show to prove that he is a "Master," but for Reality TV viewers, he is definitely a breath of fresh air.
He reminds us that there is no need for all the drama, that cooking is fun, and that Top Chef Masters is entertainment first and foremost.
"When we cook with friends–chopping and shopping, talking together, there's no sense of judgment. There's a sense of ownership when everyone is involved," he told me earlier today. "It seems we share as little as possible for fear that we may be asking too much of another. But in the kitchen and at the table, all is forgiven. Each chore requested of a guest, makes them that much more vested in your dining experience thereby eliminating any performance anxiety. I hope for more Americans to think of every day cooking and eating as a family concert in the form of a symphony with an elaborate orchestra. Let the fancy chefs be the solo performances. The day we free ourselves of the fear of failure at the table, is the day we become the masters of our own destiny and fate. You are what you eat, so make more of an effort in indulging yourself and sharing it in a meaningful way with all."
For those of you who aren't familiar with Suvir's work, check out his books, INDIAN HOME COOKING and AMERICAN MASALA. I've had the honor and pleasure of cooking with him in Seaside and summers on his farm in New York; not only is he fun and funny, but he's a true testament to his craft.
Here are some recipes Suvir and I have cooked together with Charlie and friends at the American Masala Farm, especially the Mirchi kaa Salaan; the recipe will be available in his forthcoming cookbook, MASALA FARM.