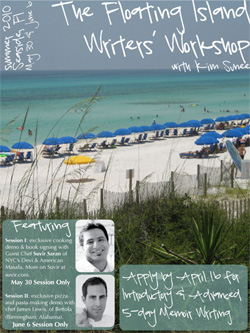 Last summer, we held our first and very successful writing workshop in Seaside, FL. There were poignant stories, fish tacos, salted caramel cupcakes, wine, Champagne, the sea, a roving gourmand (aka Pableaux) who cooked up red beans and rice, twilight dancing, and so much more.
I've received many requests to organize more writing workshops at the beach and elsewhere. This summer, we will launch another series and I'd like to welcome you to THE FLOATING ISLAND WRITERS' WORKSHOP. Introductory and Advanced Workshops will focus on narrative nonfiction and memoir writing. However, as we evolve, we will also offer courses for writers interested in fiction, cookbooks/food, travel, and poetry.
The first sessions for 2010 will begin in Seaside, FL (with two sessions May 30-June 4; June 6-June 11). I am especially happy to announce that Chef Suvir Saran will be joining us May 30th and 31st for an exclusive cooking demo and book signing. I've written about Suvir in past posts. He is the author of two wonderful cookbooks, Indian Home Cooking and American Masala. This is your chance to meet Suvir and learn hands-on some of his favorite recipes.
Future locations for the Floating island are New Orleans, San Francisco, New York, North Carolina, Paris…the possibilities are endless.
Each Floating Island Workshop will eventually host a guest writer/agent/editor and a guest chef/cookbook author for cooking demos, book signings, and special dinners.
Please kindly forward this info to your friends who love words, food, and travel.
Please send along suggestions (in the comments section below) for future workshop locations, guest writers/agents/editors and guest chefs/cookbook authors.
I look forward to hearing from you and seeing you soon. Please see The Floating Island Writers' Workshop for more information.