I'm in Chapel Hill for the Orange County Literacy Benefit, a dedicated group of people who oragnized a first annual Writers for Readers Series. Along with Patricia Marx, Roy Blount, Jr. and Sally Bedell-Smith with Daniel Wallace hosting, I was happy to be invited. They're all much funnier than I am, but it was an honor for a great cause.
Fellow book lovers, Stephanie and Joe, drove down from Washington DC so Sara Foster and her husband, Peter, and Cindy and Joe could guide us around the great food triangle. Steph, Joe, and I were talking about the lack of good Mexican food in our worlds and several friends suggested a list of taquerias in the area…
Day One: We made a quick stop at Allen and Sons BBQ just for a taste of the pulled pork (Cindy was very adamant that this was NOT by all means the best BBQ. North Carolinians are as fervent about their loyalties to BBQ joints as they are to their Basketball teams.)
Here's Joe, a New Jersey native working as a scientist in DC, enjoying his first taste of Pulled Pork…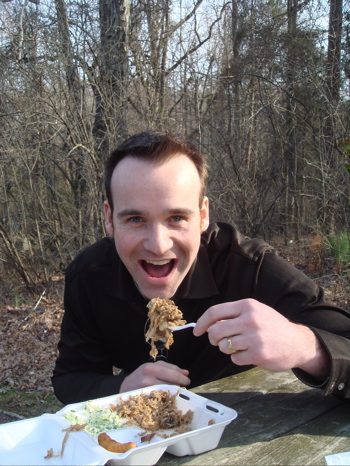 on our way to La Vaquita–a former dairy bar in Durham. Look for the cow on top of the building. The first lunch we ordered included fork-tender pork cooked in red sauce, tortas, a variety of tacos–al pastor, carnitas, chorizo, and barbacoa, and the softest chicken tamales.
Day Two: As conversation of lunch came up, we each hesitated but secretly all wanted to go back to The Little Cow. Here's our spread from Day 2…Bottom left is the addictive mole poblano made fresh daily by Fidel Rodriguez who uses a family recipe from Puebla.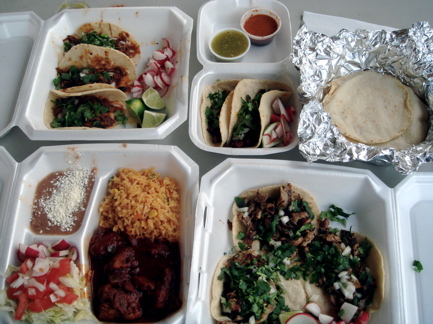 Day Three: Yes, we went back to the cow, this time with Bill Smith, Jr. (who heads the kitchen at Crook's Corner and is the author of SEASONED IN THE SOUTH). For dinner the night before, Bill cooked up fried sweetbreads, fried oysters, fried hushpuppies, classic shrimp and grits, Tabasco chicken, and cornbread salad (similar in texture and color to a pimento cheese spread). The star of the evening was the Cheese Pork–a schnitzel-esque dish with sauce Madeira and smashed rutabaga.
At La Vaquita, we ran into …