I've been working all week with talented (and hungry) writers in Seaside, FL at the Floating Island Writers' Workshop. Aside from my editing duties and acting as Camp Director, I've been making sure all are well fed. We've been able to appreciate fresh local Gulf seafood from Goatfeathers; thankfully, this part of the Gulf hasn't been hit with the plume, yet…
Summer's here and nothing sings the season more than fresh salads. Dreaming of Italy–as I do this time of year more than usual–I made a simple salad Caprese as part of our brunch meeting workshop.
If your tomatoes are perfectly vine-ripened, simply slice and pair with mozzarella and basil. If tomatoes aren't quite ready for eating out of hand, I like to roast cherry or grape tomatoes (at 400° F for about 25 mins.) with a drizzle of extra virgin olive oil, sea salt, and some fresh garlic. TO SERVE: Spoon the roasted tomatoes and pan juices over the mozzarella and basil. This is also delicious with slices of sweet and salty prosciutto di Parma.
I've always loved Lucini olive oils but recently fell in love with the Delicate Lemon Extra Virgin Olive Oil, a first cold pressed olive oil infused with the flavors of the Limone della Costa d'Amalfi. This highly fragrant lemon grows on terraced hillsides of the Amalfi Coast and is prized for its balance of acidity and perfume. I love how it pairs with the tomatoes and mozzarella.
What to drink? I always consult my friend, Damon Haynes, of Centerba Selections (with owner, Ken Rosati, formerly of Windows on the World) in North Carolina. He says go for Italian and recommends a glass of Grillo or Frappato from Sicilia or a Fonterenza rose di sangiovese from Montalcino.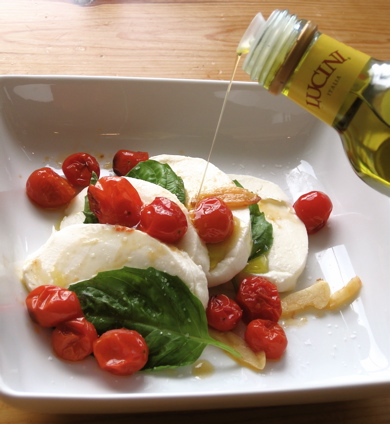 Next up, I want to try Lucini's savory fig Balsamico and the Fiery Chili Extra Virgin Olive Oil. How would you pair these flavored oils and vinegars?