Sunday spring fling with friends. Kate, gardener extraordinaire brought baby leeks and violas and chives from the garden. She also used to live in L.A. and learned to make carnitas that "will break an old man's heart." (Kate's Recipe below.) She broke a lot of hearts yesterday with her tortillas, crema, carnitas, and hot hot hot tomatillo salsa. THANK YOU Beau for the gorgeous photos.
I roasted the baby leeks with heirloom tomatoes and toasted walnuts.
Baby Leeks, about 4 weeks old, from my Kate's garden: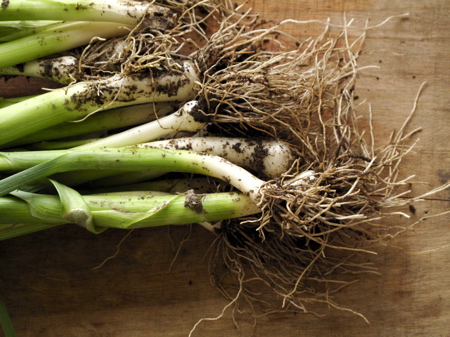 10 year-old Darby performed magic tricks and got us to decorate eggs. Starship, shooting star, Saturn eggs.
To round out the menu: glazed carrots, couscous with spring peas and orange and mint, fried chicken, Beau's gorgeous mashed potatoes, asparagus with dill vinaigrette, sauteed radishes with parsley, cheese, cupcakes with fresh viola blossoms, homemade frozen yogurt with strawberries and balsamic glaze, vinho verde, prosecco, and beer.
It was a happy table: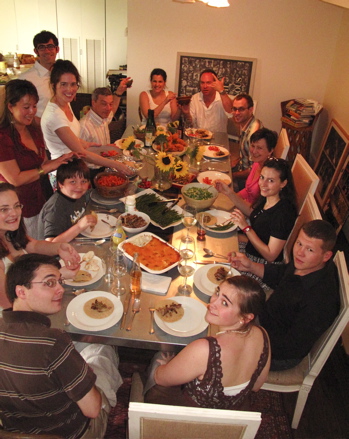 Kate's Heartbreak Carnitas
3 lb Boston butt, cut into 4-inch cubes
2 lbs lard
oregano, cumin, salt, pepper
1 orange sliced
1 onion sliced
Season pork and set aside. Melt lard on low heat in a Dutch oven or other deep pan. When lard is melted and warm but not hot, add meat, orange and onion., and seasonings. (The moisture in the orange and onion keep down the temperature of the lard which enables the long slow cooking.) Set temp to medium-low so that the lard barely simmers. Cook for 2-3 hours or until the meat is fork tender. Stir occasionally, but don't sweat it; the lard does all the work. When tender, raise the temperature to medium-high. The lard will start bubbling like crazy and may come to a rolling boil. This is fine–it's the water boiling off. When the lard comes to a small-bubble stage (takes about 10-15 minutes of hard boil to get here) meat will start browning. What you are trying for is moist and succulent inside with a crispy browned outside. Turn cubes of meat until browned and remove with slotted spoon onto paper towels as each piece is done. Cool slightly then shred using two forks.
Tomatillo Salsa (again so simple)
1 lb tomatillos, husks removed, and rinsed to get rid of stickiness
2 cloves garlic, chopped
3 serrano chilis
1 small onion, chopped
1/2 cup cilantro leaves
Roast tomatillo and garlic under broiler until browned but not burned. Remove stem from chillis. Place chillis in blender with tomatillos, garlic, and onion. Pulse until coarse puree. Stir in cilantro.