Day 1 continued: Julio, Thayer, and I are still tasting San Francisco, but took a break at Blue Bottle Cafe where Aaron showed us the art of the Kyoto Drip (photo below). It's stunning to watch and even better to taste. The choice of single-origin Mexican beans enriched this coffee with deep undertones of chocolate. Blue Bottle is also known for their siphon coffee bar, another visual treat. Aaron said that soon there will be an extended menu for breakfast and lunch.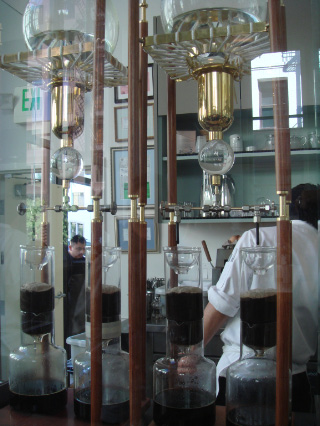 What's coffee without a donut? Julio was getting into his role of Official Eater and directed us to DYNAMO DONUTS.
It seems I always run into my friend John T. Edge when I least expect it. This time, he was outside of Boulette's Larder and then again hanging out by a taco truck in the Mission. Author of the must-read book, DONUTS (as well as FRIED CHICKEN, APPLE PIE, and HAMBURGERS & FRIES), it seemed totally fitting that he would accompany us to the walk-up donut window (below). We really wanted to try the bacon donut, but had to wait until the following day since Dynamo offers certain flavors on specific days. The apple donut topped with a very sweet (almost too sweet) maple glaze was rescued by the saltiness of the bacon…Julio said it was like eating apple pancakes with maple syrup and bacon on the side–not so strange really.