I apologize for being a bit late on my promise to write about this return journey to Seoul…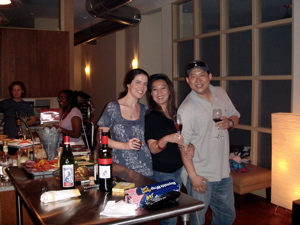 Roy (right), the director of a Korean documentary series called "Scenes of Life" for the Korean network KBS flew into Birmingham to document my return journey to South Korea. His show has helped many Korean adoptees find their birth families. I haven't had much time to think about the possibility of finding mine–I didn't even know it was possible, but Roy and KBS have a history of reuniting adoptees with their birth families… Roy has been, literally in my face, since Thursday….We took a break from shooting. My friends (Catie on the left, and my fabulous web designer back left) got together to send me off–we attempted to make cabbage kimchi, but ended up drinking more than eating.
Initially, I was invited by The Seoul Metropolitan Governement to visit Seoul. I haven't been back since 1994…but this time I am returning to my birth country on my own terms and with an open heart.
Here, I am with some flight attendants from Korea Airlines in Atlanta.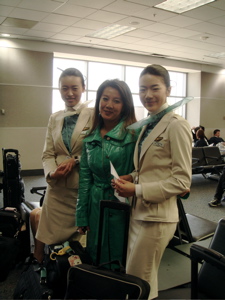 The view of the Han River from my room at the Grand Hyatt in Seoul. I turn over in the early morning and look out over the city (of over 10 million people) and wonder if someone out there remembers me….