Spring weekend in Washington DC: the SFA Potlikker film event included lots of whiskey cocktails, good friends, and great short docs on Sweet Potato Pie, Edwin Marty and the Jones Valley Urban Farm, Taylor Grocery, and Prince's Hot Chicken Shack in Nashville…
Some of my favorite lines from the films:
Pearl Mallory: "If I had 2 pies before me made by 2 different people I could taste them and tell which one was made with love…When I got married I made 6 pies. My husband would try to eat all 6…he would eat so much he had to go to the bathroom more than regular. We're divorced now and he still wants me to make sweet potato pie."
Jones Valley: "After a few days I'm jonesing for some squash harvesting."
Prince's: There's one man who runs a tub full of cool water and sits in the water before starting to eat the chicken it's so hot.
Sunday at Dupont Circle Farmers' Market: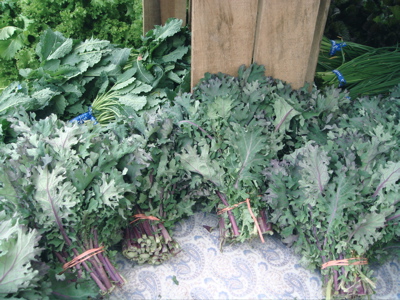 At the SFA Potlikker event the night before, we got into a fried chicken groove–lovely crisp Tabasco-fired skin–thanks to Gillian Clark of the General Store in Silver Spring, Maryland. My friend, Joe Yonan, of the Washington Post, spent Sunday afternoon tracking down a great fried chicken joint. Unfortunately for us, The General Store was only serving Country Captain, but we found this wonderful little take-out on U Street.
You may recognize this Joe (Bischoff) from a Chapel Hill taco and BBQ post….
Tay insisted we try the mac-and-cheese and the mumbo sweet sauce and the kale and the candied yams…and and and….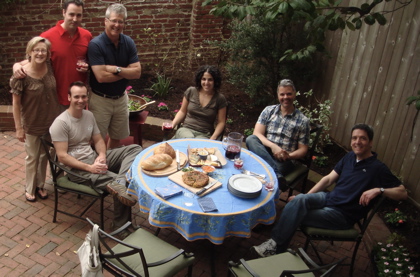 Sara Foster (far left) and the gang enjoying Hibiscus Tequila Punch made by Joe Yonan (second from right). And thanks to our host, James (far right) of Preservation Magazine.
Suvir Saran's Fried Chicken Masala
One of my favorite Fried Chicken recipes is by my friend, Suvir Saran from his book American Masala. When Suvir made this for us on a trip to his farm last summer, we were addicted. It's also good with his mint slaw and macaroni and cheese, but you'll have to get the book for those recipes.

ingredients:
Buttermilk brine:
3 cups buttermilk

1/4 cup kosher salt

2 tablespoons sugar

1 1/2 teaspoons Garam Masala

1 teaspoon ground coriander

1 teaspoon ground peppercorns

1/2 teaspoon ground ginger

1/2 teaspoon paprika

1/4 teaspoon cayenne pepper
Chicken
1 chicken (3 1/2 to 4 pounds), cut into 8 serving pieces

Canola oil, for frying

2 cups all-purpose flour

2 teaspoons ground coriander

2 teaspoons Garam Masala

2 teaspoons ground peppercorns

1 teaspoon turmeric

1/2 teaspoon kosher salt

1/4 teaspoon cayenne pepper
directions:
To make the brine, combine buttermilk and all the spices together in a large bowl. Transfer to a gallon-size resealable plastic bag, add chicken, turn to coat and refrigerate overnight.
To make chicken:
Heat 1 inch of canola oil in a large heavy-bottom high-sided skillet over medium-high heat to 375°. In a shallow bowl, whisk flour with spices and add chicken pieces. Turn to coat in flour mixture and let chicken rest in flour until oil is hot. Tap off excess flour and add as many pieces of chicken as you can to the skillet (do not overcrowd; you may have to cook in 2 batches).
Fry until browned, about 6 to 8 minutes. Turn chicken and cook until deeply browned on other side, another 6 to 8 minutes. Using tongs, transfer chicken to a paper towel-lined plate to drain excess oil.
Serve warm or at room temperature.
Date Published: April 21, 2009
2 comments
All recipes have been tested by the KimSunée.com Test Kitchens unless otherwise noted.
Shop at Sunée's Store
For more recipes and to start cooking your own feast, but Suvir's Cookbooks: