I'm always excited to receive an invitation to visit Bob Moore and his warm and energetic crew, including Matt Cox, who took home the Golden Spurtle in 2009. We gather at The Red Mill to help judge The Spar for the Spurtle contest. Of the thousands of cook-offs and contests, this one is particularly fascinating because of the hundreds of creative recipes by Bob's Red Mill fans for ways to render oatmeal exciting.
This year, I was happy to judge, along with Jocelyn Zuckerman (formerly of Gourmet magazine and current executive editor of Martha Stewart's Whole Living) and Martha Rose Shulman (cookbook author and New York Times columnist). We definitely had our work cut out for us. Oatmeal is a chameleon, taking on the flavors of whatever you pair with it; it can be sweet or savory, Italian, Mediterranean, or all-American…the possibilities are many. Lanie Smith and Kerri Willoughby, finalists with Laurie Figone, plated up inspired dishes, including Paradise Porridge Potstickers and Raspberry Oatmeal Dumplings.
All three recipes were outstanding, but what we loved about the winning recipe by Laurie Figone is that her Italian Pinhead Torta was both technically interesting (think Spanish tortilla meets Italian frittata) as well as savory and delicious. We think Laurie will be a true contender in Scotland as she competes in the 19th Annual Golden Spurtle World Porridge Making Championship in October.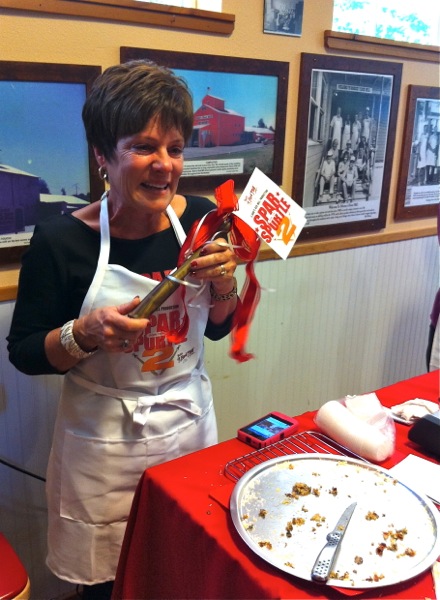 "I am still overwhelmed with excitement to be going to Scotland to represent the USA in the World Porridge Making Championship!! I hope to bring the Golden Spurtle home to make Bob's Red Mill proud!!"–Laurie Figone
START CREATING YOUR RECIPES WITH BOB'S RED MILL STEEL CUT OATS FOR NEXT YEAR'S COMPETITION.
Italian Pinhead Torta
Recipe adapted from Laurie Figone for Bob's Red Mill Spar for the Spurtle Contest.
My recipe for 'Italian Pinhead Torta' is reminiscent of a torta my Mother-in-Law used to make with white rice, eggs, oregano and Parmesan cheese.
By substituting Bob's Red Mill Steel Cut Oats (or 'pinheads' as they are commonly called) for the rice, my torta now has an incredible texture that I love!! I have also added fresh zucchini, sun-dried tomatoes for a hint of sweetness, mushrooms for their earthiness, fresh oregano to awaken your taste buds and Parmesan cheese to bring it all together! It's best to use a heavy non-stick skillet.
ingredients:
1 ounce dried portobello mushrooms, rehydrated in 1-½ cups boiling water for 10 minutes (reserving the liquid to soak the oats in). After soaking; drain, squeeze dry and dice mushrooms.

1 1/2 cups Bob's Red Mill Steel Cut Oats (also known as pinhead oats) soaked in reserved mushroom liquid for 10 minutes.

6 tablespoons unsalted butter, divided

1 cup diced onion

1 cup coarsely shredded zucchini

1/2 cup diced sun-dried tomatoes in olive oil, drained

6 Eggs, room temperature

1/2 cup chopped fresh oregano

1 teaspoon garlic salt with parsley

1 cup grated Parmigiano-Reggiano Cheese

Fresh Parmigiano-Reggiano for garnish
directions:
Heat 2 tablespoons butter in an 11-inch non-stick frying pan over medium heat, and let cook, stirring occasionally.
While onion is cooking, heat 2 more tablespoons butter in a 10-inch saucepan over medium-high heat. Add soaked steel cut oats and stir constantly for 2-3 minutes or until remaining liquid has evaporated. Remove from heat and set oats aside.
Once onion is translucent, add mushrooms, zucchini, sun-dried tomatoes and steel cut oats; mix well. Remove from heat.
In a large mixing bowl, beat eggs and then add garlic salt, oregano and Parmigiano-Reggiano cheese. Mix well and then stir in steel cut oats.
Whisk oatmeal mixture into eggs
Return 11-inch frying pan to medium to medium-high heat and add remaining 2 tablespoons butter. When butter has melted, immediately pour in steel cut oat mixture and place a tight fitting lid on your pan. Cook, covered for 10 minutes, or until cooked through. Remove lid and remove pan from heat; invert onto a serving plate. Immediately top with freshly grated Parmigiano-Reggiano. NOTE: Using a Microplane grater for the cheese makes for a light and delicate garnish.

Slice and serve.
Date Published: August 27, 2012
8 comments
All recipes have been tested by the KimSunée.com Test Kitchens unless otherwise noted.