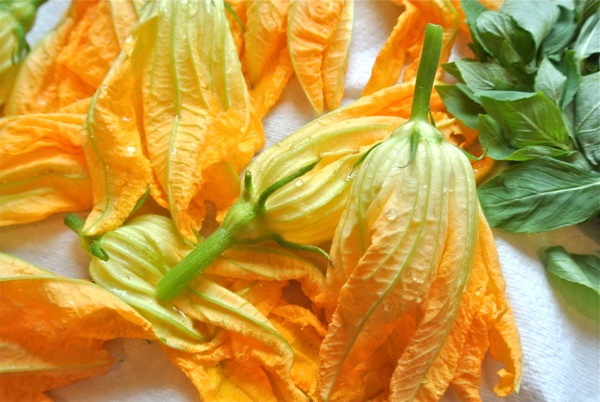 For years, I didn't realize how delicious these delicate squash blossoms were. They remind me of the edible acacia we used to fry up when I lived in Provence. Dipped in a light batter and then dusted hot out of the fryer with powdered sugar, the blossoms were ethereal and earthy at once.
Since I don't grow my own squash, I'm always delighted when I find an abundance of the flowers at a farmers' market or in the backyard of a friend's house. I make the batter with beer sometimes but I find the bitterness gets in the way of the actual delicate blossom, so I suggest using sparkling San Pellegrino. Blossoms should be used within a day of being picked and keep in mind that the male blossoms are bigger and fuller and easier to stuff than the female blossom.
Squash Blossoms Stuffed with Mint and Goat Cheese
Yield:
4

| Total time: 15 min
Print Recipe

These delicate blossoms are stuffed with mint and cheese, then lightly fried. Serve with a fresh tomato sauce.
ingredients:
12 zucchini squash blossoms, stamen removed*

1 cup/8 ounces fresh soft goat cheese

1 cup/8 ounces thick mascarpone or crème fraîche

2 to 3 tablespoons fresh chopped mint and basil

Sea salt and fresh ground black pepper, to taste
For the Batter:
1/2 cup all-purpose flour

1/2 cup cornstarch

About 1/2 cup San Pellegrino or other unflavored sparkling water

Vegetable oil, for frying

Garnishes: Maldon flake salt or fleur de sel

Optional: fresh tomato sauce for serving
directions:
Gently rinse blossoms and pat dry with a paper towel. Remove stamens, tearing blossom on one side, as needed.
Combine goat cheese with mascarpone or crème fraîche. Stir in mint and basil and season with salt and pepper. Gently stuff blossoms with cheese-herb mixture, twisting end of blossom to close.
Make batter by combining flour and corn starch with a pinch of salt. Whisk in sparkling water, adding a bit at a time, until batter is well-combined and is the consistency of heavy cream.
Pour oil to about a half inch into a large (10-inch) heavy skillet and heat to about 365°. Fry blossoms, in two batches, if necessary, turning over once until golden, about 1 to 2 minutes total time. Place on a paper-towel-lined cooling rack or plate. Sprinkle while hot with Maldon or other flaky sea salt.
If using, spoon some fresh tomato sauce on bottom of plate and top with squash blossoms. Eat at once.
Notes
*To prepare blossoms, gently open the blossom (they might tear, but that's OK) and pull out. Rinse gently and place in a paper towel-lined colander. Pat dry.
Date Published: September 5, 2012
1 comment
All recipes have been tested by the KimSunée.com Test Kitchens unless otherwise noted.