My friend, writer and roadster, Pableaux Johnson, recently offered up a taste of my childhood to me in Florida where I was teaching a writing workshop. He pulled up with pressure cooker, rice, red beans, and Jacob's andouille in his travel kit. In exchange for a walk on the beach and a peach bellini, my friends and I were treated to a taste of N'awlins (no locals really pronounce it that way, but it's fun to say every so often). Follow Pableaux's trail of Red Beans…
It reminded me of a recent trip back to New Orleans. As I was leaving the city, my friend, Chef Adolfo Garcia, stopped off at Jacob's in LaPlace, so I could stock up on their great smoked meats, all "naturally smoked in centuries old smoke houses using only aged Pecan wood." I sat on the plane happy with my bundle of meaty goods, my hair and skin smelling like a smokehouse.
Online, you can buy everything from tasso and smoked turkey wings to their famous andouille. Read an article on Jacob's by my friend, Gene Bourg.
Yesterday, I pulled out some smoked ham hocks to stew up a pot of Monday Red Beans and Rice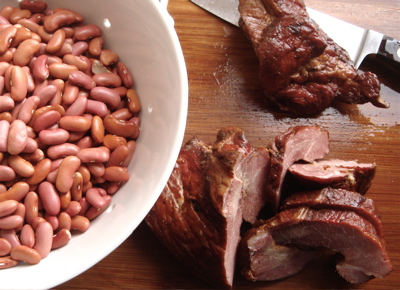 This is my Uncle's recipe that I included in TRAIL OF CRUMBS: Hunger, Love, and the Search for Home:
Uncle Kerry's Monday Red Beans & Rice
All Louisiana home cooks have a version of this classic one-pot dish. You'll find it in many New Orleans restaurants, especially on Mondays, served with fried pork chops, sausage, or, if you're really lucky, hot, crisp fried chicken. The secret to this recipe, adapted from my uncle, Kerry Hoppe, is Zatarain's liquid crab boil. Also, my uncle doesn't soak his beans but you can do a quick-soak method (boil enough water to cover beans, pour over beans, and let soak 1 hour). To serve, my grandfather used to marinate sliced sweet onions in white vinegar with Italian seasoning. In Provence, I modified using shallots and herbes de Provence or fresh thyme picked straight from the garden.
ingredients:
1 (1-pound) bag dried kidney beans

1 1/2 tablespoons butter

1 medium yellow onion, chopped (about 2 cups)

1 green bell pepper, chopped (about 1 1/2 cups)

4 celery ribs, chopped (about 1 1/2 cups)

3 garlic cloves, smashed

1 teaspoon salt

1/2 teaspoon fresh ground black pepper

1 smoked ham hock (about 3/4 pound) or pickled pork

1/2 to 1 teaspoon liquid crab boil

1 teaspoon Creole seasoning

2-3 sprigs fresh thyme

1 pound smoked sausage (such as Andouille or kielbasa)

hot sauce, to taste

Garnishes: Green Onions, Shallots in Vinegar, Parsley
directions:
1. Heat butter on medium high in a large bean pot or Dutch oven. Add onion, bell pepper, and celery and cook, stirring occasionally, about 7 minutes or until tender. Add garlic, salt, and pepper, and cook 3 more minutes. Add smoked ham hock, beans, liquid crab boil, Creole seasoning, thyme and stir. Add enough water (about 2 quarts) to cover beans. Stir, bring to a boil, reduce heat to medium and let simmer, stirring occasionally, about 1 1/2 to 2 hours. If beans get too thick, add more water, about 1/2 cup at a time. Add sausage to pot and let beans cook another 30 to 45 minutes or until tender. For creamy beans, I like to smash some of them on the side of the pot with a wooden spoon. Season to taste with more salt, pepper, or hot sauce. Garnish, if desired. Serve with hot boiled rice and Shallots in Vinegar.
Shallots in Vinegar
Combine 3-4 tablespoons rice wine vinegar, 2 thinly sliced shallots or green onions, and herbes de Provence or fresh thyme leaves in a bowl and stir to combine.
Date Published: October 5, 2009
All recipes have been tested by the KimSunée.com Test Kitchens unless otherwise noted.
Shop at Sunée's Store
Check out these two thoughtful, must-have books about NOLA cooking: