This beautiful sticky onion treat always brings me back to my student days at the University of Nice. I rented an apartment with a Swede, a Dane, and a German–all guys with big appetites who took turns cooking…mashed potatoes, jars of pickled herring, and more potatoes with mustard or other condiments. I grew up on crawfish boils and jambalaya, spices and voodoo. I finally struck a deal: I would cook for the Nordic trio and…well, I got to eat better.
We lived one block off the Cours Saleya–at turns a farmers' market and a brocante. We were always just steps away from a florist, an ice cream vendor, a fishmonger, an olive oil producer, and a baker. I was in love. And there was lots of street food. I first fell for socca, a thin addictive chick pea flour crêpe served hot and generously sprinkled with black pepper. But one day, I discovered pissaladière–salty, sweet, dark and dreamy–and I knew I had met my match.
When I moved back to the States and longed for those market days in Nice, I would make several of these onion tarts at a time.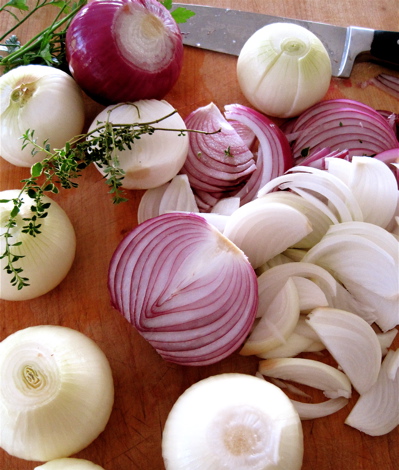 La Pissaladière
Yield:
6 to 8

| Total time: 1 hour
Print Recipe

Start with a crust of either puff pastry or thin pizza dough, and top with slow-cooked onions, black olives, and anchovies. For a dinner party: make one or two of these tarts in the morning, cut into small pieces and serve with a glass of wine to tide your guests over before dinner.



ingredients:
2 tablespoons butter + 2 tablespoons olive oil

about 2 pounds onions, halved and sliced

2 cloves garlic, smashed and chopped

sea salt and fresh ground black pepper

a drop of red wine vinegar

about 1/4 teaspoon ground cinnamon

bay leaf and thyme

puff pastry or pizza dough (store-bought or from your baker works fine)

anchovy filets

black olives such as Niçoises
directions:
Heat oil and butter in a large skillet. Add onions and next 5 ingredients. Let cook on low, stirring occasionally, about 1 hour. Onions should be jammy and caramelized. Let cool slightly.
Preheat oven to 400°. Shape dough into a long rectangle. Spread caramelized onions over in an even layer. Top with anchovies and black olives, a sprig of thyme, another crack of pepper. Bake at 400° about 15 to 20 minutes. Let cool and enjoy with a glass of wine or 2.
Date Published: August 18, 2009
10 comments
All recipes have been tested by the KimSunée.com Test Kitchens unless otherwise noted.