It's been 2 days of non-stop dining in San Francisco which included an ice cream tasting (salted caramel, lavender honey) at Bi-Rite Creamery by owner Sam (one of the most passionate and exuberant people I've met in a long time), pizza at Delfina, meeting the Tamale Lady at Zeitgeist, BBQ and Sake with Bob at Memphis Minnie's, an evening manifestation over prop 8 and a break in Dolores Park. The park stop was a quintessential San Francisco experience: I was offered afternoon ganja brownies by a lovely family, a psychic reading by a very witty and harmless drunk, and front row seats at a flag/cheerleading demonstration by a large man in a strapless gown. Actually, it felt like New Orleans any day of the year.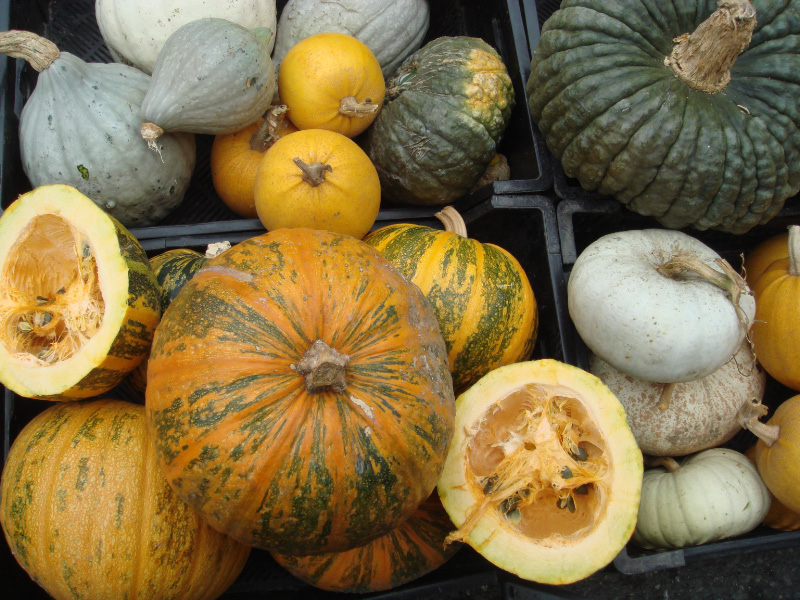 Try this recipe for Cider Roasted Winter Squash from Sara Foster for Cottage Living Magazine.
And here's an easy recipe for Fennel Salad:
Fennel Salad
Yield:
2

| Total time: 10 min
Print Recipe

Sunday was much calmer. Friends, Brian and Paul took me to the Farmers' Market in Berkeley before heading to a booksigning for Trail of Crumbs. These gorgeous bulbs of fennel hanging in the air caught my eye. I love fennel raw with lemon juice and olive oil, caramelized with shallots and a pinch of sugar to accompany roasted monkfish, or smothered with tomatoes and onions...



ingredients:
2 fennel bulbs, trimmed and thinly sliced

1 satsuma, peeled and sliced

lemon juice

extra-virgin olive oil

fleur de sel
directions:
Spread fennel slices on a large platter or bowl. Top with satsuma (or other citrus), a squeeze of lemon juice, and a drizzle of olive oil. Garnish with fleur de sel or other favorite finishing salt.
If you feel the need for pork, as many of my friends do, then crisp up some pancetta slices as a garnish. I also like to shave Parmiggiano-Reggiano on top.
Date Published: November 8, 2008
4 comments
All recipes have been tested by the KimSunée.com Test Kitchens unless otherwise noted.