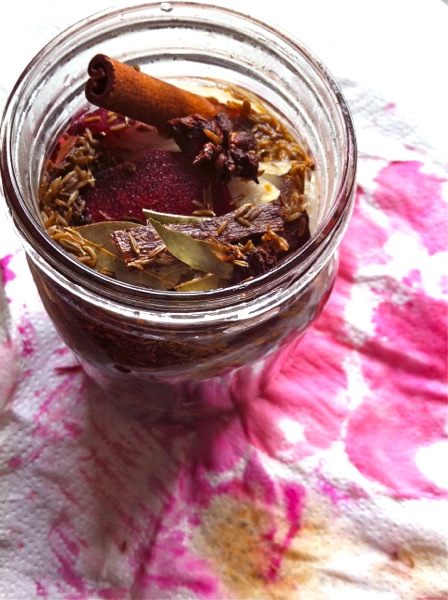 I've never been much of a putter-upper (as they call preserving in jars in the South, maybe elsewhere as well?), perhaps because when I buy something fresh from the market, I don't have the patience to save it for later; I want to enjoy it now, in the moment.  But lately, with so much abundance at the farmers' markets, and my hankering for vinegar and spices, I thought I'd try my hand at some quick pickles.  First, thinly sliced raw beets and onions with Indian-inspired spices, like star anise and cinnamon.  And some fresh small Kirby cucumbers that will turn a lovely golden hue thanks to turmeric. I like unseasoned rice vinegar or cider vinegar for pickling.  For both beet and cucumbers pickles, you can make a spice mix of your own, consider everything from star anise and cinnamon sticks to black or pink peppercorns, red chiles, turmeric, and bay leaf…If you want a ready-made seasoning packet, I like Sukhi's spice packets, which I indicate in the recipe below.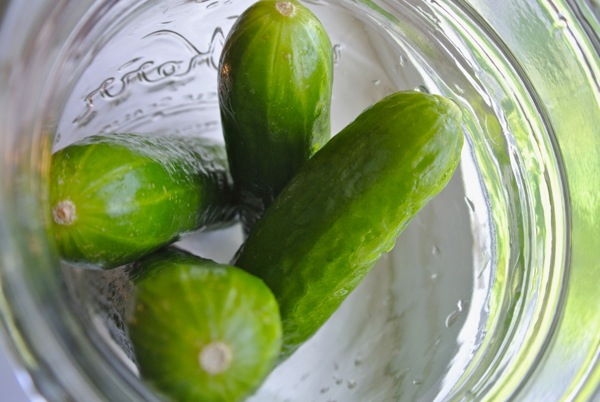 All Photos By Kim Sunée
WHAT ARE SOME OF YOUR FAVORITE VEGETABLES AND FRUITS TO PICKLE?
Spiced Pickled Cucumbers
Yield:
1 Quart Jar

| Total time: 7 min
Print Recipe

Don't let the abundance of the season go by without preserving some of its bounty. These quick and easy pickles are gorgeous thanks to a touch of golden turmeric.



ingredients:
4 medium (about 11 ounces) firm Kirby cucumbers, blossom end removed

1 cup water

1 cup rice vinegar (not seasoned)

3/4 tablespoon sea salt (fine grain)

1 (.5-ounce) packet Sukhi's Madras Vegetable Complete Spice Mix*

*If not using spice packet, make a .5-ounce mix of ground turmeric, black mustard seed, red pepper, and curry leaf.
directions:
Keep cucumbers whole or slice lengthwise into spears. Place cucumbers in a clean, wide-mouth 1 quart jar.
Combine water, vinegar, salt, and spice packet in a medium pot over medium-high heat. Bring to a low boil.
Pour mixture over cucumbers, making sure to cover completely with liquid, leaving about a 1/2-inch space at top of jar. Let cool to room temperature. Seal with a tight-fitting lid. Turn upside down once or twice to evenly distribute spices. Refrigerate, right-side up, at least 1 day and up to 2 weeks.
Date Published: June 28, 2012
4 comments
All recipes have been tested by the KimSunée.com Test Kitchens unless otherwise noted.