Many of you have emailed me about Catie's King Cake Recipe. It's here (below). To cheer on the Saints in the Superbowl, we had a big gathering. Among many delicious bites, we had Essington's "I Guess I'll Go On and Be Tender Now" Ribs, Muffalettas w/Central Grocery Olive Salad, Martha's Bourbon Pralines, Indian-Spiced Wings, flaky fruit pies, Ben and Jayeon's WHO DAT Cookies,…and the much-anticipated KING CAKE ROYALE by my friend, Catie, baker extraordinaire, who graced us with her delicious, moist Cake. The recipe was inspired by a Southern Living recipe but Catie has added rich almond paste and cream cheese and drizzles it all with a lemon glaze or an almond glaze.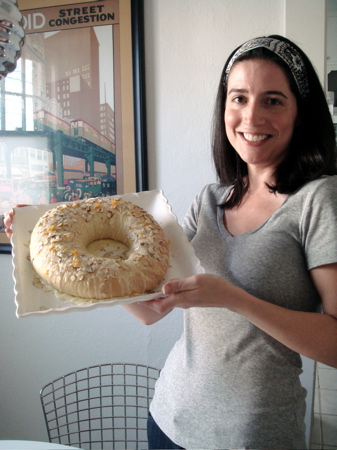 Catie's King Cake Royale
Total time: 2 hours 40 min
Print Recipe
Here's the recipe for Catie's King Cake Royale just in time for Mardi Gras and the many Saints Celebrations to come.
According to some traditions, a plastic baby is hidden inside each King Cake and the person who receives the slice with the baby is said to be very lucky and crowned the "king" and must buy or make the next king cake. Packets of plastic baby party favors may be found at most craft stores in the wedding decor section. To achieve this, one plastic baby is gently tucked into each cake at the beginning of the rolling process (read more details below).
Note: Prep: 30 min; Cook 10 min; Rise: 1 hr + 30 min; Bake ~18 min; Cool: 10 min;
ingredients:
1 (16 oz) container sour cream

1/3 cup sugar

1/4 cup butter

1 teaspoon salt

2 (1/4 oz) envelopes active dry yeast

1/2 cup warm water (100 - 110°)

1 tablespoon sugar

2 large eggs, lightly beaten

6 - 6½ cups bread flour

1/2 cup powdered sugar

1 (7 oz) package almond paste

1 (8 oz) package cream cheese, softened

1 large egg

1 teaspoon orange zest

1 teaspoon vanilla extract
Almond Drizzle
1 - 2 cups sliced almonds

Wilton Sprinkles - white sparkling sugar (may be found at Michael's craft store in the baking section)
NOTE: Turbinado sugar may be substituted if Sprinkles are not available
directions:
Cook first 4 ingredients over low heat in a medium sized saucepan, stir often until butter melts. Set aside, cool to 100 - 110°.
Stir yeast, 1/2 cup warm water, and 1 tablespoon sugar in a 1-cup glass measuring cup, let stand 5 minutes.
Beat sour cream mixture, yeast mixture, 2 large eggs, and 2 cups flour at medium speed with a heavy-duty electric mixer (preferably fitted with dough hook) until smooth. Reduce speed to low, and gradually add enough flour (4 - 4 ½ cups) until a soft dough forms.
Turn dough out onto a lightly floured surface, knead until smooth and elastic (about 10 minutes). Place in a well-greased bowl, turning to grease top.
Cover and let rise in a warm place (85°), free from drafts, 1 hour or until dough is doubled in bulk.
For the filling: beat 1/2 cup powdered sugar, cream cheese, almond paste, 1 egg, vanilla, and orange zest at medium speed with an electric mixer. Filling may be lumpy.
Punch down dough, and divide in half. Roll each portion into a 20 x 12 inch rectangle.
Spread filling evenly on each dough rectangle, leaving 1-inch borders.
Roll up each dough rectangle in a jellyroll fashion, starting at 1 long side. If including the plastic babies, tuck one in each cake at the beginning of the rolling process so they will each be positioned deep within the cakes. Place one dough roll, seam side down, on a lightly greased baking sheet. Bring ends of roll together to form an oval ring, moistening and pinching edges together to seal. Repeat with second dough roll.
Cover and let rise in a warm place (85°), free from drafts, 20 - 30 minutes or until doubled in bulk.
Bake cakes at 375° for 15 - 18 minutes or until golden brown.
NOTE: Lightly toast almond slices while cakes bake.
Cool cakes slightly on wire racks (about 10 minutes).
Drizzle Almond Glaze over warm cakes. Sprinkle with toasted almond slices and white sparkling sugar. Let cool completely.
Almond Glaze
3 cups powdered sugar
3 tablespoons butter, melted
5 tablespoons fresh squeezed orange juice
1/4 teaspoon almond extract
2 tablespoons milk
Stir together all ingredients until drizzling consistency.
Date Published: February 13, 2010
5 comments
All recipes have been tested by the KimSunée.com Test Kitchens unless otherwise noted.