When I last visited Portland, OR, one of my favorite cities, I was lucky enough to get a grand tour of Bob's Red Mill by the One and Only Bob Moore himself. Bob has a fascinating story, documented in this new book by Ken Koopman, and is one of the most passionate people in the industry. More than that, he is beloved by his staff (who share company ownership) and makes the rounds of his 7-acre facility at least several times a day, stopping to say hello to various employees. I'm several decades younger and work out regularly, but keeping up with Bob, who will be 84 soon, was not an easy task.  He claims that eating whole grains every day is what keeps him healthy and vibrant.
Before and during the tour, Bob played the piano, and talked about everything from his love of books and mechanical engineering to his antique mills. He also made me promise to tell everyone to "make sure to store Bob's Red Mill flours in a cool place so they stay fresh."
Bob's Red Mill now offers over 400 grains, seeds, flours, and more, including gluten-free and certified organic products. Some products that I personally love and always have stocked in my kitchen are the Steel Cut Oats (for muesli), Almond Flour, 7-Grain Hot Cereal, Organic Medium Grind Cornmeal, and Coconut Flakes (great in banana bread and chocolate chip cookies). I'm also eager to try the newer products like Teff, Organic Amaranth and Chia Seeds.
After our tour, Bob insisted on taking me to the Whole Grain Store for lunch in his Ford Model A Roadster. I stocked up on some of my favorite grains and goodies, including organic quinoa, which I love for both its creamy mouth fell and crunchy texture.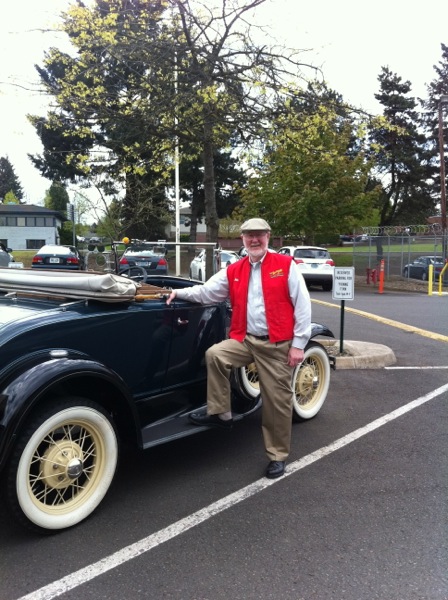 Here's a favorite salad I like to make with organic quinoa and whatever fresh vegetables and herbs I have on hand.
WHAT'S YOUR FAVORITE BOB'S RED MILL PRODUCT AND HOW DO YOU LIKE TO COOK IT?
Organic Quinoa Salad with Fresh Herbs
Yield:
4

| Total time: 20 min
Print Recipe

Quinoa, rich in protein and magnesium and slightly crunchy in texture, is delicious in a variety of ways--steamed with just a bit of olive oil and lemon, warm as a breakfast cereal, or chilled in salads as in this recipe. Quinoa flour is also excellent for making gluten-free crackers and pasta.



ingredients:
1 cup cooked Bob's Red Mill Organic Quinoa

1 cucumber, peeled and chopped

1 spring onion bulb or red onion, thinly sliced

1/2 cup chopped fresh mint, basil, and/or flat-leaf parsley

1 small jalapeño, seeded and chopped

1/2 cup fresh blanched snow peas

1/2 cup chopped fresh tomatoes

Extra-virgin olive oil

Fresh lemon juice

Sea salt and cracked black pepper, to taste
directions:
Combine first 7 ingredients together in a large bowl. Stir in good-quality extra-virgin olive oil, a squeeze of fresh lemon juice, sea salt, and a crack of pepper.
Serve as a light main course or with grilled fish or chicken.
Date Published: June 14, 2012
9 comments
All recipes have been tested by the KimSunée.com Test Kitchens unless otherwise noted.
Shop at Sunée's Store
So much to choose from. Shop Bob's Red Mill Products and Read the new book: