Susumu Yonaguni, a Japanese chef who started out as a dishwasher in the kitchens of The Savoy came to Korea, but not to grill bulgogi or rice cakes. Instead, he wanted, like most real cooks, to cook food he knew and loved. Thanks to stints in New York working with Terrence Brennan, and Dave Pasternack (chef at Esca–one of my favorite lunch spots in NYC), Koreans can now have a taste of regional French and Italian cooking.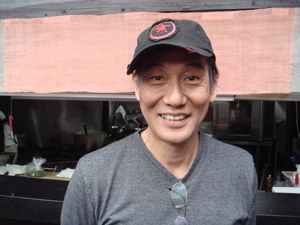 "It wasn't easy," Susumu sighs. "Getting Koreans to eat French and Italian. But I persisted because this is what I know and love." Because he can't get all the ingredients he needs in Seoul, Susumu makes his own cow's milk ricotta, buttermilk, etc. And while many Koreans have all varieties of vegetables frothing and fermenting in their cellars and gardens, Susumu uses his space to enhance the goodness of peppery duck prosciutto. He said he couldn't sell it or even give it away because of the fear of Avian influenza, but how could I resist Susumu's lovingly cured 3-month old duck prosciutto with kumquat confit…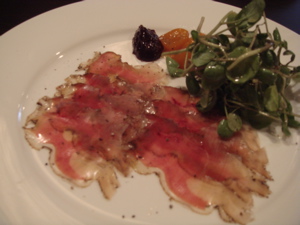 My food-obsessed translator, the adorable Seung-Hee, looks happy too.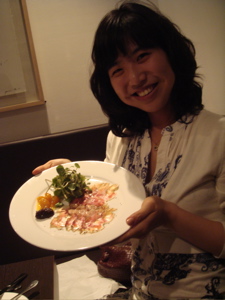 We also tasted an arugula salad with gorgonzola, caramelized pear, and fried acacia blossoms, brandade, perfectly al dente pasta with cauliflower, toasted breadcrumbs, anchovies, and grated bottarga…and a silky quiche with onion confit.
The cooks in the kitchen are all students from Susumu's cooking school. 98% are young women. "Women," Susumu states, "have a finer palate, and make better cooks."
The proof was in the salted butterscotch budino!