Meaty day. Started out driving with local celebrity Chef Al to Mat Valley Meats where owner, Nate, who will be the star of a new Discovery Channel show, has generously offered his location for a salumi-making extravaganza.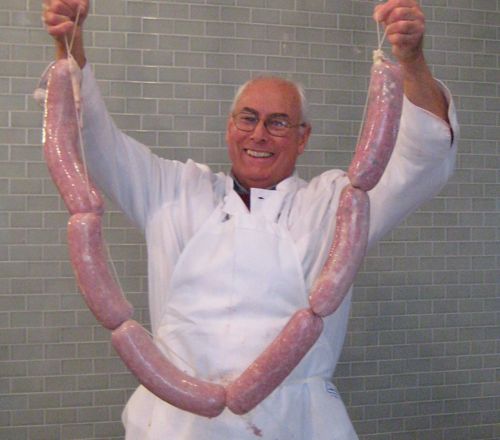 Our fearless leader is François Vecchio, a 3rd-generation Swiss master butcher/Salumiere. Today, François is working with the first of 3 barley-fed pigs to be butchered and sorted, weighed, measured and photographed before being transformed into coppa, saucisses, paté, boudin, and more. Minneapolis chef Mike Phillips has joined us as well as Emmy award-winning filmmaker extraordinaire, Elizabeth Pepin Silva, who is here to help document the event…more on that soon.
With all the meatiness of the day, dinner is a salad that started out in Greece (feta, wild thyme a friend brought back from the island of Limnos, sweet onion and cucumber) and went to finishing school closer to the Alps; I sliced some savoy cabbage I had in the refrigerator and tossed it in with a red pear. Thought about toasting pine nuts, but the salad is already confused enough, sitting there in a wooden bowl from Vermont against a window cold with the first Alaska snow. Luckily, tomorrow, we (salad not included) head to Oahu for a quick business trip.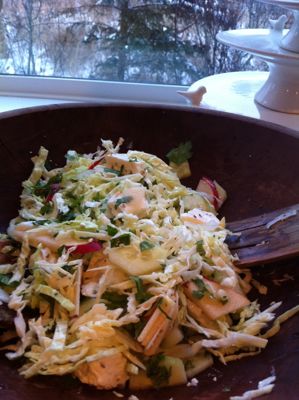 Dessert will be leftover panna cotta with candied lemon zest. The ratio of 2 teaspoons unflavored gelatin to 3 1/2 cups milk/almond milk/cream/yogurt/buttermilk works very well; I don't like rubbery panna cotta. There's a bit (OK, a lot) of scraped vanilla sediment in this one but it tastes good..Oh well, it can't always be perfect.