Just landed and am in the town of Jefferson as a guest of Kathy Patrick and the Pulpwood Queens for Girlfriend Weekend. It seems big hair and tiaras are mandatory here…
This morning's notes:
It's fascinating to listen to other writers as they try to describe the solitary and difficult writing process. I was mesmerized by Deborah Rodriguez, whose book, Kabul Beauty School, I bought after listening to her fascinating stories of her time in Afghanistan and reminding us that we still have to live, even during a war–people still get their hair cut, they get married, they love and lose and love some more because life goes on…
More to come…I'm off to read Kabul and sneek a peak into Paulina Porizkova's A Model Summer–yes, she's stunning in person and absolutely charming and loves, loves to read, but more remarkable is that she wrote this book in her 4th language.
I think what's most interesting about today is that, in some way, we are all searching for home–whether we long to go back to one (that may or may not have existed), or we are fighting to keep one; we all want to land in a place where we feel safe and loved and can love.
At the Mulberry Inn in Jefferson, on their way to the "Hair of Ball", here are
Carole, Rosemary, Ann, Paula, and Cynthia–P.J., who chauffeured me around all weekend, unfortunately is not in the picture…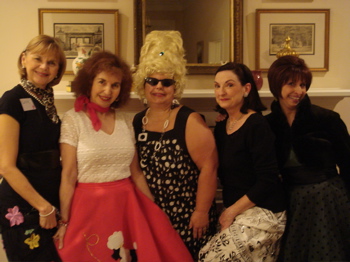 I finally found a tiara, a borrowed one–does that still count?–here I am with Beauty and The Book founder, Kathy Patrick. A kiss to thank her for supporting new authors and for choosing Trail of Crumbs for the Pulpwood Queens February 2008 Book Club Pick.