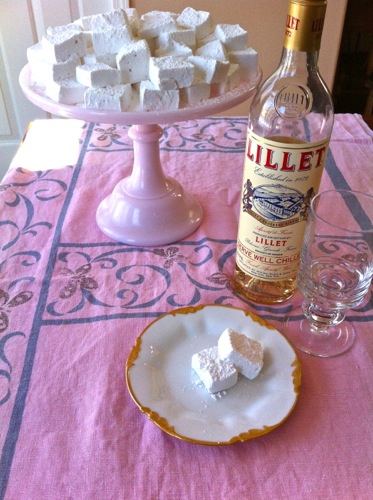 I don't know why I was compelled to make marshmallows, especially since I'm not a huge fan of them, but I like a culinary challenge. And I was tweeting with Ray Isle of Food and Wine Magazine about what to do with my bottles of Vin Jaune and vin de paille from the Jura region of France. I came across this epicurious recipe for marshmallows using Lillet Blanc, one of my absolute favorite apéritif (I like it chilled with a slice of orange). I also love to poach peaches in Lillet Blanc (recipe in Trail of Crumbs).
The epicurious reviews mention the simplicity of the recipe and the subtle flavor. It is surprisingly easy to make, as long as you conquer the stickiness of it all; tip: a lightly oiled pizza cutter or mezza luna is a great way to effortlessly cut these.
What I loved about this challenge is that it allowed me to practice using Lillet Blanc, which is more accessible this side of the Ocean than the more obscure Vins du Jura. Now that I have the confidence to make these, next up will be marshmallows with vin de paille, a sweet straw wine.