"Indian food is not about drama or hidden recipes within recipes.  It's all about spices, added at different times during the cooking process, which add layers of complex flavors." -Chef Suvir Saran
When Foodbuzz asked Featured Publishers for submissions for the August 24, 24, 24 Event, I was on my way to see friends at American Masala (Washington County, in upstate NY) and I knew a farm-fresh Indian-spiced meal would be a wonderful way to share a summer feast with other food lovers.
Why Indian? It transports you with heady aromas and, as with all deeply satisfying pursuits, leaves you dreaming and plotting of how you can relive it again and again and again.
The American Masala Farm Feast Menu:
Masala Fried Chicken
Suvir's Sister's Favorite Corn Curry
Mirchi Kaa Saalan–a mixed hot pepper curry
Apple-Cucumber Salad
Warm Lentil Salad with Coconut and Tomato
Tomato Onion Raita
***********
Lemon Verbena Ice Cream
Peach Apricot Clafoutis with Pistachio
***********
Beer and Prosecco
Cantaloupe Sparklers
Whenever I get together with Chef Suvir Saran (of Devi in NYC and American Masala in Jersey City) and his partner, Charles Burd, the harvesting and cooking of food is almost 24/7.
A Typical Day at the farm:
Early morning, Charlie makes us steaming hot cappuccinos before gathering eggs. He tends to about 100 heritage breed chickens, as well as 20 geese, 15 ducks, 36 guinea hens, and 40 (non-egg laying) goats. These eggs have been described by pastry chef and baker extraordinaire, Michael London as having yolks "as if they drip from the sun."
Rich, creamy and highly addictive, I would eat one of these gorgeous eggs every day if I lived here…
Suvir grinds fresh potions of cardamom, cumin, and chiles, while stewing thick black raspberry jam and directing me to pit sour cherries to gently cook in simple syrup. I already have my eye on apricots and peaches for clafoutis.
Our friend, Dan, pours sweet and thick Battenkill Creamy milk over fresh lemon verbena for ice cream. We sometimes take a break, gather around the hot skillet to taste Suvir's lard-laced biscuits or another one of Charlie's espressos before cooking some more.
Today, for FOODBUZZ 24, 24,24 we have decided to host a feast using local produce and the faraway spices of India. We'll be guided by the gentle hand of the chef as well as his recipes in the 2 cookbooks, Indian Home Cooking  and American Masala (see details below). Friends, including Grande Dame of Washington County, Elizabeth Gambee "Betty" Osborne, regional television host and cookbook author Sally Longo as well as neighbors, Joe and Sally, Suzanne, and two hungry gentlemen farmers from England have come to join us at the table.
Suvir's Tips for the home cook:
"Indian cooking is so easy; once you have the spices, you just need a will and desire.
Make a trip to the spice store–I like Foods of India in NYC–once a year (or buy them online). Invest in a spice grinder and a mortar and pestle. I like to store my spices in airtight containers in the freezer and fill smaller airtight containers that I keep in the cabinet. The spices will keep a couple years in the freezer with no problem."
First, fresh watermelon juice for our guests.
Then, on to the serious business of Mirchi Kaa Saalan, a curry of mixed peppers, both hot and sweet. I Love this dish so much, the pleasure of heat compelling me to take one more bite…. The first time Suvir made this, I knew I would dream of it, crave its heat and depth of flavor (dark peanut flour, coconut). I knew I would want to eat this every week, and now I can because Suvir taught me to make it. The recipe will be in his forthcoming cookbook, so there will be lots of happy mouths.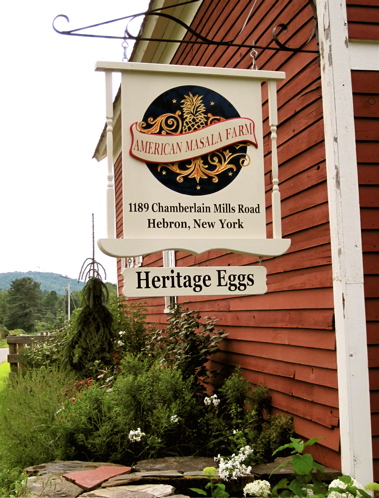 Thanks FOODBUZZ and VISA SIGNATURE for sponsoring this month's 24, 24, 24.
For more recipes and to start cooking your own feast, buy Suvirs cookbooks: