I am thankful
for airplanes and pilots and hot fried chicken
for open kitchens and French raw milk cheese.
For running water and electricity
for literacy and words and the dictionary.
For my notebook and my pen and the Mac genius bar
even though I would be more thankful if they served cocktails
like Lillet blanc or mad Champagne.
I am thankful for white and pink peonies
Neapolitan style pizza
and a room of my own in Paris,
the five senses
and farmers markets in any city.
For music…Schubert's trios and Glenn Gould and Josephine Baker
Nina Simone and Neal Young, Priscilla Ahn
and Bill Smith's good banana pudding, music to my mouth.
I am thankful for my sister when she calls just to say hey
for my 4 year-old goddaughter who breaks out in song
to announce her own joys over Barack Obama
being her president.
For Roy in Korea who calls while I'm in a cab
circling the Paris opera
dreaming of an almost-family in Seoul.
For family in New Orleans, North Carolina, Korea, and France
for my friends, and my analyst, my agent and my publisher.
For the sea and the oysters that live there,
for thick creme fraîche and good wine.
For Neruda and Harrison,
Rilke and Bishop,
and good friends always at the ready
to join me at the table.
This Thanksgiving I am in Paris, and I am lucky to be dining with friends, Dan, Jan and Florent, and Little O. I've been coming to Allard for years. I love it for basic, old-school French cooking, including duck with 1000 green olives, frisée with lardons, and thin, crisp apple tarts.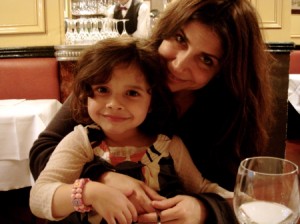 J and Little O.
Paris Bistro Thanksgiving Menu
Saucisson Chaud Lyonnais with potatoes cooked in white wine
Salad of Mâche and Beets
Salad of Haricots Verts and Smoked Duck Breast
Frog Legs Sauteed in Butter, Parsley, Garlic, and a squeeze of lemon
Sweetbreads cooked in cream with Morel Mushrooms
Poule Faisane with Cabbage and Chestnuts
Poulet de Bresse with chanterelle mushrooms and sauteed potatoes
Tarte Tatin
Paris-Brest
Profiteroles
Baba au Rhum
Champagne and Sancerre Rouge
I love the frog legs sauteed with butter, lots of garlic, parsley and lemon.
We always have to remind Florent to share the sweetbreads. Cooked with cream and carrots and morel mushrooms, they are his favorite dish at Allard.
And Poule Faisane, a gamebird served with chestnuts and cabbage.
Tarte Tatin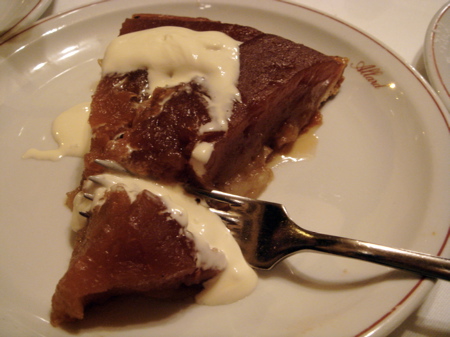 Thank you Chef Didier.