I've been in New Orleans for a week doing what I love–eating and drinking, sharing, sipping and toasting. But before you get too jealous, just know that I am experiencing a hint of a crise de foie–leave it to the French to create a name for "liver crisis," an entirely self-induced malady. However, I do not regret a single bite or sip from this past week visiting old friends, and meeting new ones, especially at the New Orleans Food and Wine Experience (NOWFE).
Here are some best bites from these days of food and wine (more food and recipes on posts II and III later this week):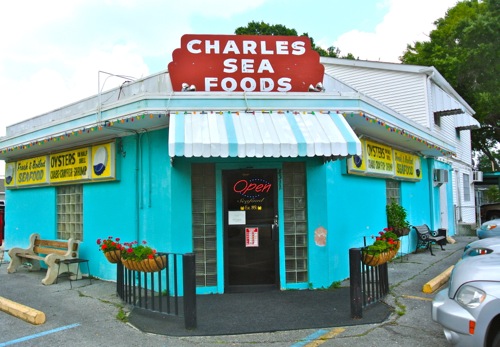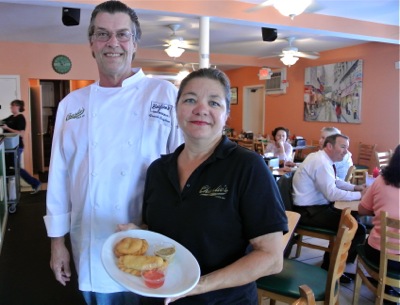 CHARLIE'S SEAFOOD RESTAURANT in Harahan, LA. This is where Chef Frank Brigtsen (of Brigtsen's fame) ate as a child. Decades later, he purchased the neighborhood joint, updating the menu with the best of local seafood, including perfectly fried softshell crabs, vegetable-heavy Gulf shrimp remoulade, gumbos and seafood platters. Not to be missed are Janet Caldwell's handmade Cane River meat pies. I could probably eat a dozen of them, and fortunately Janet sells the pies packaged up and ready to take home or ship.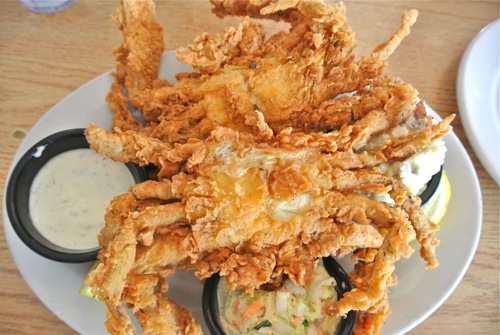 Back to NOWFE: One of the chef and winemaker dinners was absolutely and brilliantly executed by Chef de Cuisine Michael Gulotta of August. Opening dish: Salad of wild crawfish and spring onion, "boiled" Covey Rice creamer potatoes, andouille and saffron vinaigrette, paired with "louola's Revenge" Chardonnay, by local winemakers, Neil Gernon and Monica Bourgeois, of Vending Machine Wines.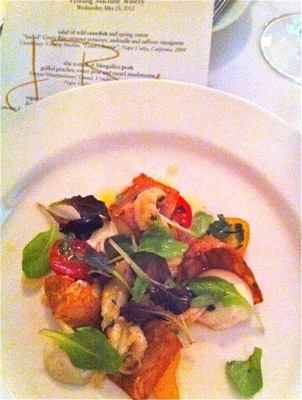 A few of my favorite seminars from this year's NOWFE include the sliders and wine pairing (with Tim McNally, chefs Brack May of Cowbell, Matt Regan of Luke, and Isaac Toups of the recently-opened Meatery). Yes Way, Rosé! (with rosé proselytizers Joe Briand and Colin O'Neill, Herbsaint Chef de Cuisine, Rebecca Wilcomb, who brilliantly paired rosé with everything from a luscious fresh and smoked salmon rillettes to merguez-inspired meatballs), Sherry Baby with the passionate André Tamers, the Battle of Burgundy, and Around the Bend, with Chefs Frank Brigtsen, Chef Scotty Snodgrass of One Restaurant, Chef Nathanial Zimet of Boucherie, and Chef Eman Loubier of Dante's Kitchen)–I'd show you more photos from these seminars but for some reason they came out a a little blurry, except this one of Eman Loubier's Roast Pork Butt Steak (a whole butt roasted for 10-12 hours, then wrapped in plastic overnight, sliced like steak and crisped!).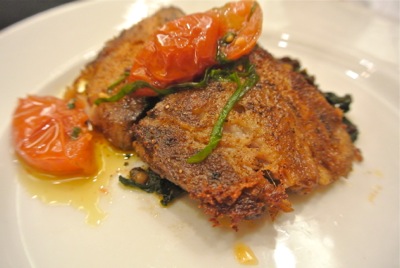 More to come this week from Riomar, Root, Herbsaint…but first, a few drops of Peychaud bitters in fizzy soda…
WHAT ARE SOME OF YOUR FAVORITE BITES IN NOLA?