Seung-Hee and I spent the day at some of her favorite dives, tea shops, and street food stalls:
A snack of Silkworms boiled in water and soy sauce in Insa-Dong…I only tasted one–it was actually good, but just enough to satisfy my curiosity.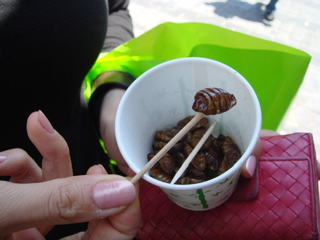 Back to Heaven–the name of the tea shop and a poem by a Korean Poet. The specialty here is the tea made of candied quince (preserved from 3 months to 3 years) and puffed rice cake snacks that taste like styrofoam with a little sugar and sesame.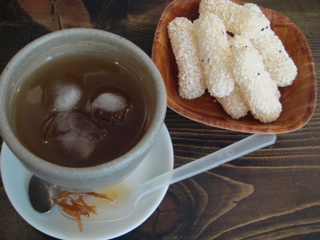 We also went to one of her favorite dives in the Sam Chong Dong neighborhood–a funky Soho-like quarter–for Seung-Hee's dreamy comfort food. This place basically only serves Su-Ja-Bee Soup and different types of savory pancakes. As we were waiting in line, Seung-Hee clapped her hands and said: "I'm so excited. I love having to wait in line–it reminds me that I have to deserve this soup."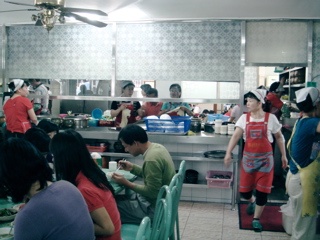 Su-Ja-Bee is made of a clear shellfish stock clarified broth filled with clams, zucchini, and "flying pasta". It's like chicken and dumplings of the sea. The pasta is made of all-purpose dough and held up like pizza dough as it gets turned and shaped. Then, with one flick of the wrist, the cooks pull pieces of the dough and send them soaring into a boiling pot of stock. We also had bean pancakes and 2 types of kimchi, of course, all for about 12 dollars for 2.