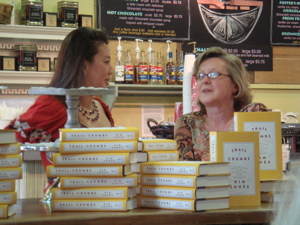 I just got back from a book tour in NC. First, an event at Nancy Olson's wonderful gem of a bookstore, Quail Ridge Books in Raleigh, and then an event with Sara Foster and Bill Smith (of Crook's Corner) at Foster's Market in Chapel Hill. Sara and Bill transformed the recipes from Trail of Crumbs into great party foods–red beans and rice risotto cakes with Sara's 7-pepper jelly (available at fostersmarket.com), Moroccan chicken skewers with dates, crawfish bisque cups, almond-saffron cake, and mini oyster po-boys. I have 2 friends who ate about 30 of these. They were tiny, but…
we still had room for a great birthday dinner at Bonne Soirée run by the thoroughly charming Tina and Chip (formerly of the Inn at Little Washington). They are top notch pros in front and back of the house. I LOVE this restaurant. It's intimate and seats about 30. I'm not a fan of shad roe, but Chip sent out fresh silky, buttery shad that I will seek out now wherever I go. We also shared housemade paté, rich and spicy with clove, clam chowder, salad of winter lettuces, and the Casanova or "moon pie". You'll have to get Tina to explain what it is–I love hearing her describe this dessert. And if you get to meet Phillip, you will fall in love with every word he speaks to you throughout the night. This is the place for absolute perfect service and wonderful food.
Of course, I was in taco-land so the next day we went back to THE COW (see previous post).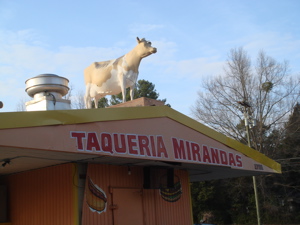 for more tortas and tacos.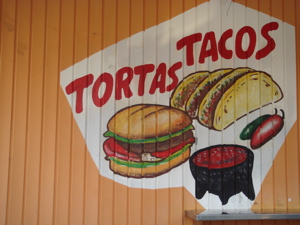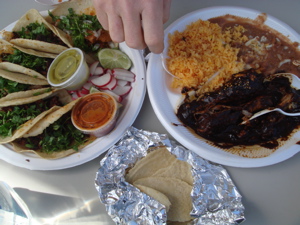 (SEE VIDEO OF FIDEL SHOWING ME HOW TO MAKE HIS MOLE POBLANO)
We also had dinner at Lantern (see food and travel on kimsunee.com). Andrea Reusing happened to make kimchi the day I was there. She also sent out crispy pork belly in a rich coconut sauce. Everything Andrea cooks is impeccably spiced and flavorful and I leave the city craving her food.