As some of you know, I am working on Book 2–a culinary scrapbook with recipes, snapshots, poems, and more. And the deadline to hand over the manuscript is…September 1–that's just a few weeks away and I still have lots of recipe testing (and writing) and tasting. (NOTE: If you are my editor or agent reading this, not to worry, I have an incredible group of friends helping to test and taste recipes.)
I will post more regularly after September 1. Promise…Until then, I wanted to take this time to say that I am soooo very thankful for all the talented and thoughtful recipe testers, including Dan, Woody, Greg, Kelli, Jeff, Julie, Jennifer, Laurie Constantino, and head of the kimsunee.com Test Kitchens, Chad Haynes, who keeps me on track. And Bob and Neil for their enthusiastic tasting of recipes over and over again. I owe all of you Boot Camp Fitness Classes!
If you'd like to know more about what's to come in Book 2, I've been posting photos and updates on instagram and twitter from developing and testing.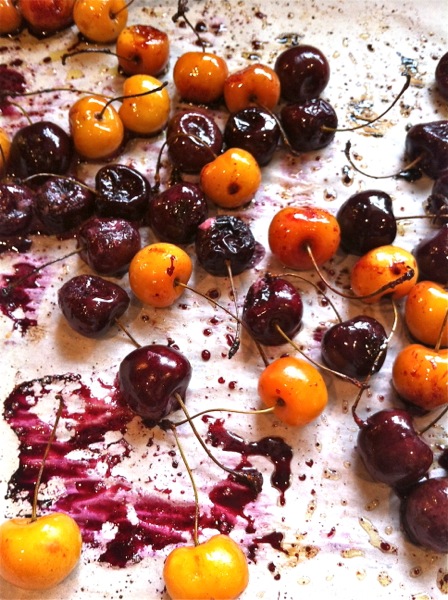 Here's a little taste of a recipe I worked on last week for Roasted Cherries and a Roasted Cherry Salad with baby kale and mozzarella (or burrata).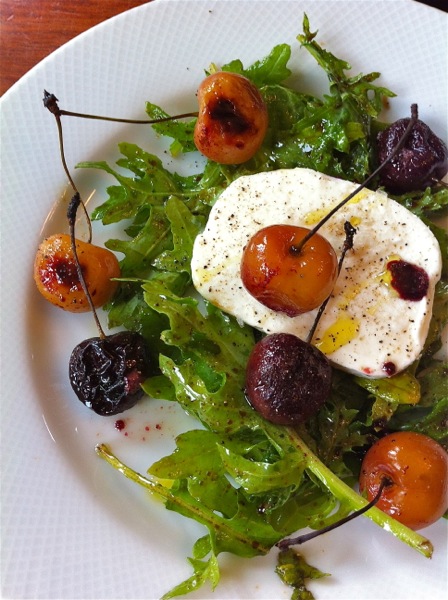 Some other salad recipes to try: Burrata with Asparagus, Pine Nuts, and Golden Raisins, 101 Simple Salads, Summer Corn Salad, Sara Foster's Watermelon, Tomato Salad…
Back to the kitchens….this week: Poppy's Oyster Dressing, some Korean-inspired recipes, custard-filled fruit, and hopefully some (strong) cocktail recipes…