As we prep for the celebratory Pizza Party (to celebrate 20 years of Frances and Ed in Cortona), I find myself in the kitchen with a sweet Italian man named Ivan and his robust and big-hearted mother, Domenica, who live just up the gravel road at the "House of the Sun." Together, we make pizza dough with "00" flour, a good dose of Bramasole olive oil, salt, and water. No measuring. I've been making pizza since my return from Parma a few weeks ago. But here, I realize, I've been doing it all wrong. Ivan's method suits me better for I am a cook who prefers not to measure, who is always tempted by the last-minute handful of this, and pinch of that.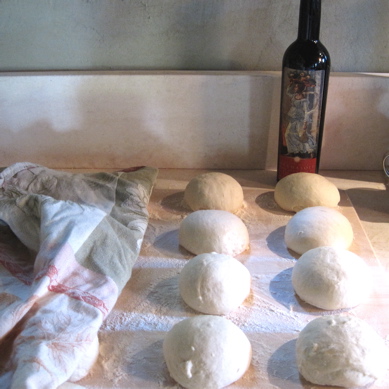 Ivan, with one hand constantly in motion, gently turns the flour and water into a beautiful paste. We knead it, cover it and let it rise. After an hour or so, I help pinch out moonballs of dough. Mine are not as smooth as Ivan's but he assures me that they're perfect. "OH KAY. Very good." He gives me thumbs up as we toss and turn and flatten the balls to top with everything from torn basil, whole sage leaves, rosemary, and caramelized onion to fresh Italian sausage and mozzarella. Domenica squeezes my arms, tossing flour about me like fairy dust. Ivan and his mother are wizards in the kitchen yet make me feel that one day, I, too, can know the secret.
Someone announces the arrival of a whole roasted pig. The porchetta! Kids squeal at the sight of the whole head, snout, eyes and all. A Korean-Australian musician arrives as well as a chef from Los Angeles, friends from North Carolina, and villagers who have gathered to celebrate 20 years of Frances and Ed here in Cortona. About 75 guests in all. A few hours later, Ivan and I take a break and he tells me we have made 65 pizzas in just a few hours. I am sticky from sweating, the back of my dress covered in Domenica's large floured hand prints. What a brava ragazza you are, he keeps telling me. No sleep and 65 pizzas. Brava. Brava.