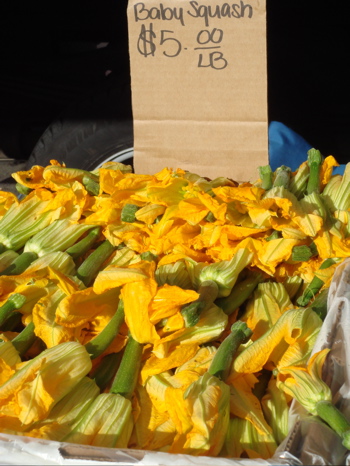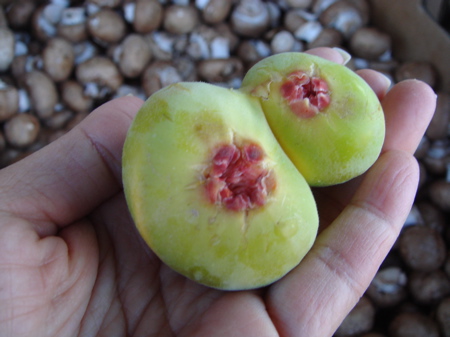 Squash Blossoms and Siamese Figs at the Hollywood Farmers Market early Sunday.
My friend, Sara Foster, and I were shopping for our Cottage Living photo shoot in Paso Robles last week. We were so full (we had had dinner at The Hungry Cat the night before where we feasted on raw oysters and clams, watermelon-tomato salad and Ling cod with Merguez), we couldn't even taste any of the harvest grapes, elephant heart plums or the tiny golden apples.
But, when we got to the taco stand, we couldn't resist a morning taco carnitas with cactus salad.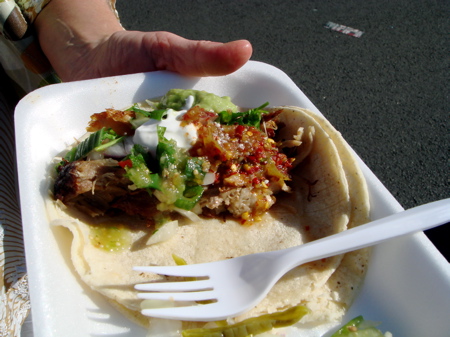 After walking off the taco (s), we drove to Paso Robles to see Ed Sellers , Sara's brother-in-law, who is pursuing a lifelong dream of becoming a successful winemaker. Ed and and his wife, Dani are charming and work hard to make beautiful Rhone-style wines. Although I find the wines of this region a bit sweeter than others, I love Ed's rosé and the cuvee des cinq.
For lunch, Ed took us to his favorite taco joint, Lo Mejor de Michoacan. Of course, it had been several hours since Sara and I had had the Farmers Market Taco (and a blue corn green chile enchilada on the way out), and since we were going to a tasting with The Paso Robles wine commission, we decided to have a bite or two. The tacos–carnitas, carne asada, and al pastor were fresh, hot, with crispy bits of meat all served up on fresh corn tortillas.